Alpine adventures
Ken's idea of fun is to fill a big rucksack with stuff and set off up the hills and over the passes of the European Alps. I have gleaned quite a lot of useful information & photos. They are here, as you may be interested in doing some of the trips yourself.
If you need any more information, do not hesitate to
e-mail me. I am sure some of my advice has saved lives.
I have only described trips I have done myself & can vouch for. The ones labelled 'Alpine ' demand ice-axe, crampons, rope & companion but the others, the bulk, are within the capability of any fit walker. More information is always available from village Tourist offices & usually, their web sites. In Switzerland, the URL is often just www.village name.ch e.g. www.zermatt.ch although some, e.g. Arolla, are dot coms, as in www.arolla.com & Zinal is zinal.net. Austria is .at.
Just one other thing: you walk on your own responsibility. If you break your neck, that's bad luck or your own fault, not mine.
On-going:-
A gradual programme of revisions, including bigger photos & diagrams now
most people have broadband & XGA screens. Also, on a white background, which should make things clearer. I'd like your e-mail opinion on this.
Ken has illustrated lectures about the:-
Cross-Swiss Walk
Chamonix-Zermatt Walk
Stübai tour
"Summer in the Pennine Alps" (amateur movie)
English Lake District for beginners
which he is willing to give to societies. E-mail him on this link.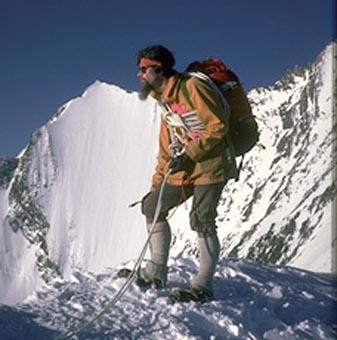 Ken on the Ulrichshorn 3925m
above Saas Fee, 1977. See Tour 4 below.
Hair now totally white & a lot thinner (2013).
New July 2013 -
New Cross-Swiss Walk variation
Fluela Pass bad weather option.