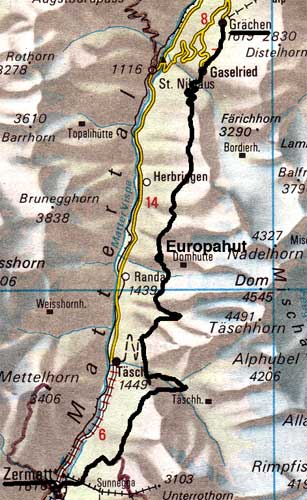 This map is copied from the Official Map of the Automobil-Club der Schweiz, (with their permission) which is on this link but not to scale
.The Europaweg officially starts in Grächen & is not for the faint-hearted. I set off at 0723. It is quite a walk to Gasenried & I was confused by the start, as the first bergweg mark goes left to the broken bridge. Going the other way (right fork), there is a steepish slog up the Grat at 2273m. I was overtaken by a Swiss group from Fribourg canton who spoke German & who I kept bumping into, as they took long rests. Then, the gradient goes off up to about 2500m & the path becomes rough across the rocks (photo below). 100m after the path to the Bordier Hut goes off is a wider bit with a flat stone, which was the obvious lunch spot (at 1130). After that, the path rounds a headland into a huge gully & a loose-looking stone shoot appears. This is signed 'Cross the danger zone quickly' in four languages but a) it is not safe to do anything quickly in the Alps and b) if like me, you suffer from shortness of breath, you don't have any 'quickly'. Cross the yellowish rock with great care. There are stanchions stuck in it but these have been bent by later rock falls. The path then winds up over another cliff and an unlabelled but similar danger zone has to be crossed.
After this gulley comes the high point, about 2700m &, while there are more stone shoots before the hut 6km further on, they are all safe. This is a highly artificial path, made by the Tourist Offices & not by farmers or pack-horses. However, although the path looks like a contour on the map, there are two 'umleitung', diversions, where the path has been wiped off the hill by the winter. The first is no big deal, as it involves no height gain but the second drops at Miesboden by a stream which has destroyed the old bridge & struggles up the other side. This is only 0.5km from the hut, so I was tired & did not need this. I got to the Europahütte at 1558. I had a beer with the Fribourgers, then destroyed the excellent dinner of asparagus soup, fleischkase with egg & tortellini and meringue.