XMAS 1997
...was spent with the family: Jason, Caroline, Freddie & the other granny, Christine,
in a pub near Marlow.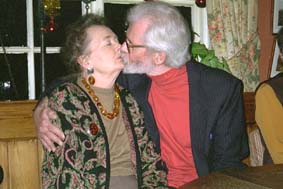 Links to other pages
PARTY OF THE YEAR
...was for our 15th Wedding anniversary on August 23rd, a rainy Sunday. However, 45 people turned up & we lazily had caterers to do the donkey work, although they accidentally distributed our wine cellar to the guests! Margery Harrison appointed herself Court Photographer with interesting results, recording some mesalliances. Everybody said how interesting everyone else was & we felt it was the best party we had ever given. On October 16th, Ken took Avis for a feast at Frederick's (official caterers to Champagne Socialism) to celebrate, after 2015, being married to her longer than to anyone else.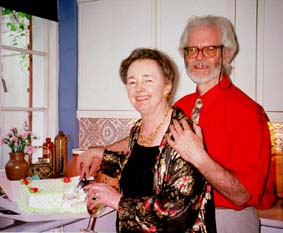 Cutting the cake
Contact: Ken Baldry or Avis Saltsman, 17 Gerrard Road, Islington, London N1 8AY +44(0)20 7359 6294 or e-mail him or her
This page's URL: http://www.art-science.com/Xmas1998/index.htm Last revised29/6/2014
Copyright: ©Art & Science Ltd 1998-2014 All rights reserved but print it off if you want to.
The Gerrard Chronicles published by Art & Science Ltd ©Art & Science Ltd 1998-2014. Originally set up in Palatino.
All photographs & text Avis & Ken Baldry except where credited. Published using Claris Home Page 3.0 on an Apple Power Macintosh G3
with Kodak Photo-CD images and Linotype-Hell Jade II & Nikon Coolscan II scanned images.