Business Column
CASABLANCA

...was the first trip of the reporting year, in December 1997 to install two systems in BMCE. This was all amazingly trouble-free, although we (ASL) are not happy about DDE-based servers. It's a crappy way to extract forex rates. Interesting local food, lamb cooked with fruit & brown sugar on kouskous. This is not in the weight-watchers diet! There was also a totally Berber-manned Japanese Restaurant! The streets had truly 1st world levels of traffic pollution but Ken did not have time to explore this not-very-picturesque city. At least, it is not the wrong sort of Islamic. The Reuter boss is Naema Amsahel, definitely a lady (& very good looking) running things & no nonsense about dressing as a Guinness bottle.

NO POINT IN WHINING

Reuters knocked our Data Feed Simulator package out of the market by providing one free of charge to firms that take their developer support package. This is the sort of thing big firms do to little firms - look at Microsoft - so it's time to move on & cut one's losses. We did make about one humdred grand out of that product, anyway.

Casablanca from Ken's hotel
You can taste the pollution in the photo!
SNAPPED UP
Not us - our partners Boston Treasury System announced their merger with Thomson Financial Services just after the last edition went to press. This was completed in January, at which time, Ken visited them in Cambridge, Mass, to help Valerie Puffet convert their 16 bit systems to 32 bit, Art & Science having already done this. It was very sunny & extremely cold & snow-covered, as is usual at this time of year. Ken also got some money, so naturally did a successful raid on the Harvard bookshops. Shop bought CDs are cheaper than mail-order prices in Blighty. The best news from Cambridge was the departure in February of the ghastly Mike Peterson, who had held up payments to Art & Science, sabotaged some installations & slandered us to our clients. We do not know what he expected to gain from this. If you come across this small, bald, bespectacled runt in business, steer clear of him.
There were a few wrinkles in the takeover. It took us until November to work out how to get paid. However, technical liaison between them & us is now through Steve Tarver and is much better, as Steve uses brains to stop his ears falling in.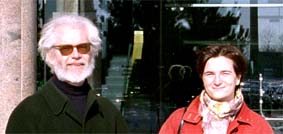 Ken with one of his colleagues at Boston, Valerie Puffet, both well swaddled against the Massachussetts January.
ATHENS

A trip in the appalling heat of July, Ken tried to install a server written with, effectively, five days notice. Naturally, there were problems but Ken left them with something to test with & rapidly sorted everything out with Boston by telephone & e-mail, the great blessing of the nineties. However, not everything went smoothly with these new 32bit versions. After a flurry of e-mails from Riyadh, Jeddah and Warsaw and yet another trip to Bloody Prague, we managed to fix everything.

ASL ON THE WEB

News of our Web Site, launched in April, really belongs to all columns. Look at www.art-science.com for lots about our company and other activities. We have posted the User Guides for our software there, to make it easier for users to keep up-to-date.

OTHER THINGS ON THE WEB

Avis has an on-line gallery on her own web site www.art-science.com/Avis. We have included other artists we respect, such as Joyce Peck & Marilyn Simler, renting them cheap web space. You can get to them through their names here or from our home page. Ken's big Alpine trips are also up with photos and in guide book form and a Year 2000 survival guide has been assembled.

The village below the Acropolis
...is Traveller's Tales
... is back to the Index
& ours personally
---
Contact: Ken Baldry or Avis Saltsman, 17 Gerrard Road, Islington, London N1 8AY +44(0)020 7359 6294 or e-mail him or herThis page's URL: http://www.art-science.com/Xmas1998/business.htm
Last revised 29/6/2014 Copyright: Art & Science Ltd 1998-2000 All rights reserved but print it off if you want to.