WEBBED FEET
News of our Web Site, launched in April, really belongs to all columns. Look at our top page for lots about our company and other activities. Avis' site includes pages of paintings and prints, information about shows, past, present & future and some genealogy information.
This was the year we really became involved with the Internet, having used it solely for e-mail before & we have found some other Salzmanns on the Web. They have published their stories & Avis has reciprocated with her Family tree information & her Origins essay.

CNN SHOWS UP
CNN came to Avis' Studio in January to interview her & film the work & methods. This was thanks to Discover Islington (the Tourist Office) putting them on to her. We don't know what happened to that film, though.
THE SHOW IN DOLCE
From April 6th to the end of June, Avis showed Italian Theme work in the Dolce Ice Cream Bar in Islington's St. Alban's Place, which has very good hanging space. There were effectively three private views & Avis sold work to, among others, people from the Turkish Embassy.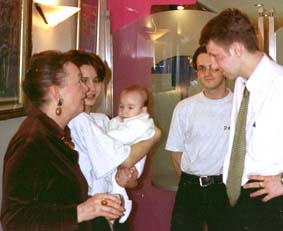 Avis, Anastsia carrying baby Clem Koszuta, Marco & Chris
Clement (as in Attlee) Koszuta was born to Jan & Nicole on December 26th 1997 & just missed last year's newsletter.
SPRING COLLECTION
This show was held at Whiteleys in Bayswater in March with four other artists, as this huge & attractive gallery is difficult to fill & expensive. We put up the 6 large Ischia paintings, several acrylic paintings and some prints. This is what someone from the RCA said about Avis' work in the comment book:- 'I really enjoyed the work of Avis Saltsman. With distance, they look great, very chunky paintings definitely evoking feelings I have about the landscape. It's the large acrylics with surfaces that are striking & strong'. However, this is not a good venue & despite two Private Views, sales were disappointing.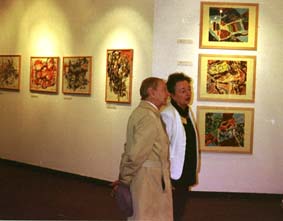 Avis & 'Holmes' at Whiteleys with Avis' new carborundum collagraphs to the right and older acrylic paintings to the left.
Below: 4 of the Ischia Series of paintings.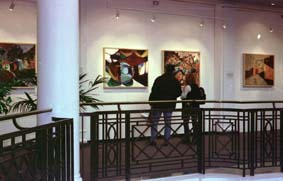 AVIS TIES IT UP
As a result of a lecture by Deanna Petherbridge, the Drawing Prof at the RCA on the subject of skill, dear to our hearts, Avis found herself co-ordinating links betwen the Culture Secretary, Chris Smith, Deanna & other people, including Prof Ken Robinson's National Advisory Committee on Culture & Creativity in Education to try to combat the de-skilling of students by the 80's generation of useless lecturers.
Jason's Art Scene
Jason was seen at last in a six-part television series called 'Duck Patrol' with Richard Wilson, allegedly comic, based on the fact that the River Police cannot go more than four miles per hour. More satisfying was the lead role in Timberlake Wertenbaker's 'After Darwin' at the Hampstead Theatre, which contrasted scientific truth about evolution with the religious mania of the Captain of 'The Beagle' and with Jason acting ages 22 to 70. He ended the year with an engagement with Peter Hall's repertory company at the Piccadilly Theatre in Eduardo di Filippo's 'Filomena' with Judi Dench, with Alan Bennett's 'Kafka's Dick' to follow. He also made a film version of Eugene Onegin with Ralph Fiennes, an old RADA colleague.
Ken's Art Scene
This started in December with the rapid composition of a symphonic poem called 'Sea & Mountains' which lasts 61 minutes, as he was on a roll from 'The Shropshire Lad' & with which he was inordinately pleased. There followed a short piece written as an apology to a friend he had offended and the 45 minute 'Carnival Music' for an art show which did not come off, for Avis. These are all available on CD. Work in progress at the reporting year end was a piece for Avis' up-coming Spanish theme show, for which she is producingnew collagraphs and screen prints. Watch out for your Private View invitations. Examples of Ken's music can be found.
Ken's big Alpine trips are also up on the web, with photos and in guide book form and a Year 2000 survival guide is on too. You really need to look at that!
OTHER ARTISTS SHARE OUR WEB SITE

| | |
| --- | --- |
| | |
| ... is the Index & ours personally | ...is the Family |

---

Contact: Ken Baldry or Avis Saltsman, 17 Gerrard Road, Islington, London N1 8AY +44(0)020 7359 6294 or e-mail him or her
This page's URL: http://www.art-science.com/Xmas1998/artscene.html Last revised 29/6/2014
Copyright: Art & Science Ltd 1998-2014 All rights reserved but print it off if you want to.

This is Joyce Peck. We went to two of her shows.