There was some down to do & a path (marked on the map) went off south to save some height loss.However, when I got to the marked cowshed, it seemed to disappear, as it was much further down than I expected, so I moved across the hillside above where it must be, even though this was slow, expecting correctly to come across it eventually, which I did at Bödmer, not far below the pass. There was still much snow & it was quite hard work to the top. Some way down the other side, my watch dried out & worked again, suggesting that it had taken me 6.5 hours to get up, much more than I expected. At the top of a ski lift (Biel) I stopped for a beer. As well, as the going down seemed interminable, being further down than up. It seems inconceivable that Suvorov took his army over here in 1799 but it is clearly marked as the Suvorov Weg. After reaching the road, I walked along it to Bürglen, stopping at the first hotel there, the Waldhof. It had taken 10hr 20mins to do the walk. I flopped onto the floor for a bit before doing my washing & showering. Dinner was a real Cordon Bleu & actually cheaper than yesterday. Although the room was Sfr50, dinner was only Sfr20.60. My room stank of the cow shit they had sprayed on an adjacent field. There was a lot of rain & cow bells in the night. They must have been taking the cows up to the Summer pasture.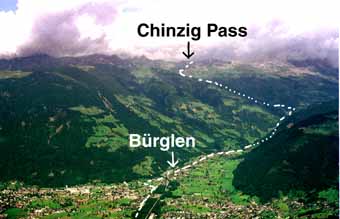 The view back to the Chinzig Pass from Brüsti
In 2006: From the top of the Chinzig Pass, one can bear left down to Spiringen, a village on the original route and on the Klausen Pass road. This link suggests this is not a good idea.