XMAS 2001 WAS RATHER WEIRD
Jason had custody of Freddie & Pip for Boxing Day & had booked us into the glacial (atmosphere, not temperature) Copthorne Hotel in Salford from Xmas Eve. So Xmas Day was rather weird. After a tour round, we eventually found dinner-at-lunch in somewhere with a name like Hooligans. Boxing Day with the kids, was snowy but spent in Jason's hotel room. We had dinner with him that night at the rather posher Hotel Malmaison in the middle of Manchester.
However, Avis had to go into hospital before & after Xmas to have a melanoma removed. Ken had spotted this on her back & rushed her round to the doctors. The NHS can really move itself when it has to & Avis received exemplary treatment at the Middlesex Hospital. We had to delay our skiing trip because of this. We made several other trips to Manchester to see the kids.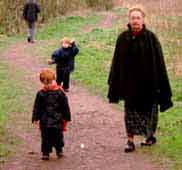 Avis & Boys in the Mersey Valley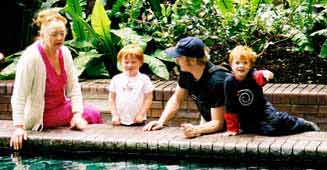 Avis, Pip, Jason & Freddie at the Barbican
---
Links to other pages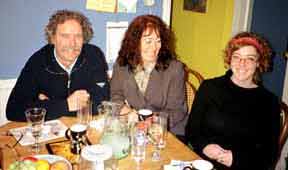 Ken's Greece-resident brother, Geof, his wife Lida & younger Daughter Mara, whom we are seeing through University. They came to visit in January.
---
MISSING LINKS -
AVIS WINS THE JACKPOT
On the flimsy evidence of a Saltzmann family in Lafrimbolle, Lorraine, supplied by Steve (Saltzmann) Johnson on the web, we set off for France in May, flying to Zürich & taking a hired car through the Black Forest & Vosges to Abreschviller (more detail on this link), where the nearest Saltzmann to Lafrimbolle lived. This was Claudine, whom we met & who gave us the important clue - look in Rixheim, near Mulhouse. (Yet more detail on this link). We went there & the Rixheim Town Archivist, Benoit Mayer, found Avis' great-grandfather Joseph in no time at all & soon located most of her other ancestors back to about 1700 (details on this link). French bureaocracy is wonderful & wonderfully thorough! We even met an elderly Jean Saltzmann in Riedisheim, the next village. More photos in the Travellers Tales.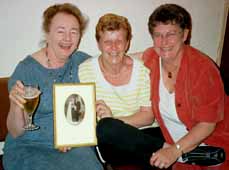 Avis, Claudine Saltzmann & her friend, Françoise
---
JUSTIN GETS HITCHED
Ken's cousin Justin has been teaching English as a foreign language in Japan. Just like his elder sister, Liz (teaching in Milan), he has married one of the locals on September 29th. So, meet Mrs Nanako Dowding & family...
Photo: unknown