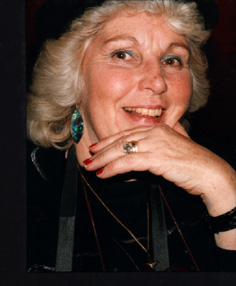 JOYCE PECK
of
IRIS IMAGING
ARTNET INTERNATIONAL
Promotes artists and photographers with the aim of securing them exhibition space and exposure to international corporate and private clients.
Exhibitions of artwork are organised and managed wherever the artists wish to display their work. Local and London venues are arranged as well as exhibitions abroad.
Joyce Peck MA Dip. Ed. now works in photography, printmaking and installation art as well as having experience of holography. She is about to embark on a world-wide trip from which she will gather new material for her image making.
This is Joyce.
Joyce Peck
Installation Art
In a darkened space, incandescent interaction between digital images and the viewer are mesmerising in their elemental and achetypal feelings of mystery and peace. Joyce's installation seeks to explore the qualities of natural phenomena, in various ways. Using technology which interacts with these natural forms she embraces new dimensions in art.
Joyce Peck
Digital Art
Capturing the colour and beauty of the world's natural forms, through travel photography, has formed the basis of Joyce's digital prints. She finds great inspiration in water, both above and below the surface. Joyce uses colours and textures of deserts, rainforests and mountains, often as backdrops to the human figure, to evoke moods of freedom and tranquility.