AVIS' HEALTH
As last year, there is no Campaign Trail report this year but for a different reason. Because the tories have brought in a load of changes to our rights to demonstrate & indeed, vote, Ken is effectively barred from attending demonstrations because of the risk of getting his collar felt. This would mean he is likely to be out of circulation for an unspecifiable length of time. Nowadays, after an unfortunate incident when Avis, up until March 30th, had been coming home from the University of the 3rd Age by herself on the tube. Ken had been getting worried & then, Ken had a telephone call from someone called Chris, from "The York" pub, saying he was with Avis. He had found Avis, rather lost, at Euston Station, climbing stairs with difficulty & blocking the way for irritated other passengers. He rescued her & took her to the pub, although it was way out of his way, as he was going home to Tooting on the other line. He had bought her a white wine & insisted on buying me a beer, Ken just had a half of Pride. We chatted briefly, then he had to go home. Then, Ken took Avis home. There would have to be a change in the rules: Ken will have to stay with Avis at all times, only leaving her when he goes shopping for food, at times when she is having an extra kip. Avis had no idea why she had got off at Euston & when Chris had asked her there where she was going, she said, "I don't know". This is now how it is. Fortunately, as we have only been married for 39 years, the shine has not worn off & we are still all over each other, so this is no hardship!
BARBCUING ALAN Friday 1st July
Alan was Avis' first husband. Ken was dressed entirely in 5 different shades of black. It took us a long time driving around Mortlake Cemetery before we found somewhere near but not in front of the Cremmy, to park. We could not hear most of the eulogies (!) of Alan because the sound system was rubbish, although the music worked ok. The wake at Avenue Road was quite a good party. We had met Gilbert, Avis' last grandchild, for the first time at the Cremmy. Avis' first son, Richard, Avis' grandsons Freddie & Pip plus a few friends came as well as Jason's present family. Freddie has a 9 to 5 job as a copywriter at the moment. He wanted some repose. Pip has just got a First. Alan's neighbours turned up, he German, she from Singapore. Ken got a big laugh when he said he had been there to steal their women. Ken also got some German practice. He came from Köln but Ken knew more of the "DDR", as he had spent so long in Asia. Computer boffin, now doing NHS stuff. Easy drive home with the usual jam spots.
TONY'S FUND-RAISER June 12th
Cousin Tony had a fundraiser event for the local Hospice. We drove to Bloxham in Banburyshire & found his charming house. We were the first there & his wife Pippa took our money. We found Tony in his, perhaps, medium-sized garden, which is subtly laid out to look natural, which it is not. He made us tea & we caught up until the hordes came. Being family, we had a glimpse in the house, which feels like a museum just as ours feels like a Library. Ken took over collecting the money while Pippa took a wheelchair case round the garden. Then, Ken told Pippa the ultra-romantic story of King Peter of Portugal, as another Philippa was involved.
VISIT TO ALYSON
Monday 12th September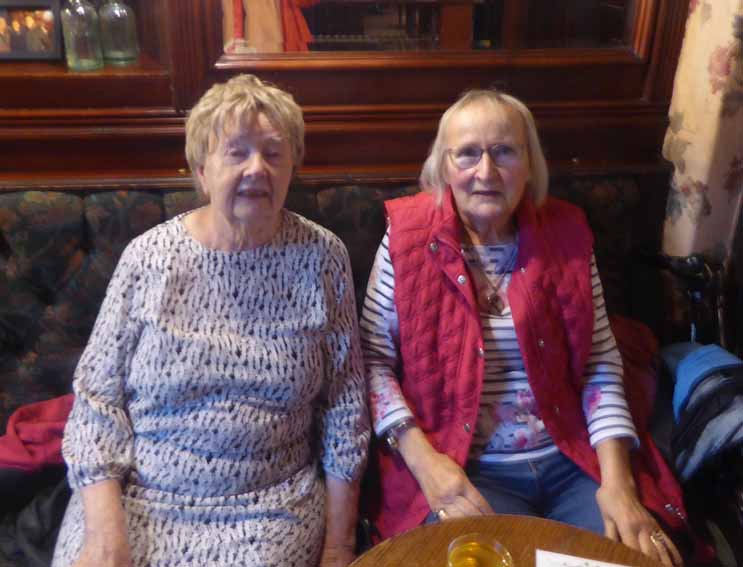 Avis & Alyson
Away at about 09:50 & arrived at the hotel at about 15:50. The weather in the South was ok, if somewhat dull for most of the time but we had patches of rain later & of course, it rained when we got to Glossop. We used the Chatsworth Route. going off the A6 at Rowsley & while it was dull up the Derwent Valley, it is always good to be there, as Ken gets half his Mountain Fix. We filled up with petrol before going to the hotel, which has an Everest to climb to get to the rooms on the top floor. That was about 186 miles. We had tea & a kip before Ken had a shower at 17:15. Alyson was in "The Globe" but few others. Ken only noticed the smaller than usual bill late but it is 20% off on a Monday, note. Ken always wonder how they make money anyway. Alyson told us tales of adventures with her mother & a Miss Mackintosh from school. She does not seem in worse condition than before. The next day, we set off to Scotland on this link
HOPEFULLY, DENISE WILL RETURN
After some time in Manchester, where health problems have interfered with her employment, we have tempted her back to London with residence in one of our flats, which has conveniently become empty. There, she can both keep an eye on us & on her parents, her Father currently having health problems as well. We expect her to arrive in the New Year. .
KEN BEATS OFF THE GRIM REAPER
Wednesday 16th November
Everything was hunky-dori in P&CA but not in Ken's following European History class. There was something wrong with his diction & he gradually collapsed into incoherence. After the class helped him into a chair, as he was obviously in trouble, he then lay down on the floor for a bit. This was correct, as it improved the blood flow to his head. He got back on the chair & then paramedics arrived, someone in the class having called an ambulance, which swept Ken off the Neurological Hospital, by which time he had recovered. There, they tested him for everything, including CT & MRI scans, believing he had had a TIA (Minor Stroke). Eventually, he walked off to the bus. Meanwhile, Ann & Stephen Barry, bless them, had taken Avis home with them ,then brought her back to Islington in a taxi.