We went to the Loch Long Hotel, which had food, rather expensive & 3 coach-loads of Dutch people, who soon arrived. After we had eaten & they had not, we chatted to a table-full of them & Ken managed to keep them well entertained.
We left at about 09:50 after another English breakfast edited, as there was no need to dash off today. The weather was nearly as good as yesterday, although there was a little rain at about lunch time. We went up to Crianlairich & over Rannoch Moor to Glencoe, actually seeing Buachaille Etive Mor in sunshine for, we were sure, the first time.
It seemed a long way from Fort William to the turn-off to Glen Garry, where there were plenty more views.

Loch Garry
It turned out that some of the photos were weirdly coloured. When we got home, Ken did recover some of them with Photoshop.

Loch Cluanie

Drumbuie
Fortunately, the camera recovered by time we got to Plockton. Ken parked Avis in the Plockton Inn's pub (where we were staying) & went down to the front to take photos. Ken chatted to a pair of Aussies & later, a Dutch woman, who sought advice of where to go from here & got it.

All of Plockton

North Plockton

Loch Carron from Plockton
Plockton Church (Church of Scotland) above, is rather unusual, as the congregation face the long side of the building & there is a gallery as well.
| | | |
| --- | --- | --- |
| Duncraig Castle from Plockton | Plockton Church | Inside Plockton Church |
We got our dinner earlier than we had booked. Just as well, as the bar was packed solid. It is very expensive here & it was over £49 for some mediocre Fish & Chips, as the posh fish was round about £40 a portion! After, we went in the bar, not a bit freer & chatted to a couple we had had a brief exchange with earlier.
Thursday 15th September 2022 to Aultguish Inn, Garve. The big day.
Mixed weather day. Some sunshine, somewhat more drizzle but no proper rain. It seemed a long way from Plockton to Lochcarron village. Everything after that was a long way, too.

Lochcarron village

Down Loch Carron
There was a pass over to Loch Kishorn with views of Applecross (left), which we didn't do this year. We did get a good view across Loch Kishorn with a rainbow, though. It rained through Torridon, so we did not see Liathach but Loch Claire was visible & Slioch across Loch Maree.
| | | | |
| --- | --- | --- | --- |
| Applecross | | Towards Torridon | Slioch |

Loch Kishorn with a rainbow

Loch Clair
It was sunny when we reached Kinlochewe, which had the cheapest petrol we had seen (£1.63) for quite a while, so we filled up.

Loch Maree, North-West of Kinlochewe

Gairloch Harbour
We spent a little time in the other Gairloch. Then, we had huge sandwiches in the Poolewe Bridge Café.

Gairloch

Gairloch beach

Poolewe Below

Loch Maree from the Poolewe (sea) end

Loch Ewe
I missed the viewpoint over Inverewe Gardens, as there was a sign for 440m but no other sign!

North of Poolewe Below & next below: Gruinard Bay


Otherwise, the weather was mostly good into Little Loch Broom.

Ben Ghoblach across Little Loch Broom

Down Little Loch Broom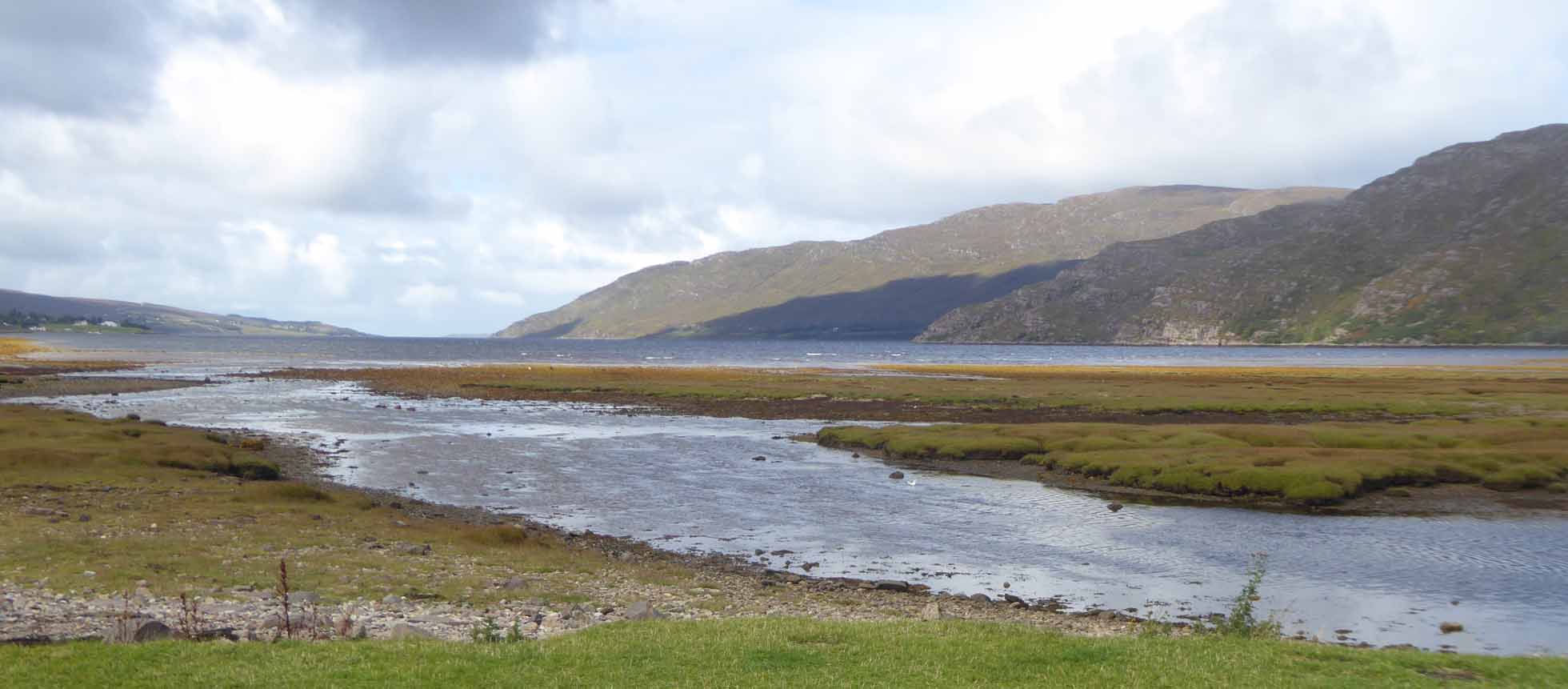 North-West from the Little Loch Broom strath
| | | | |
| --- | --- | --- | --- |
| Loch Broom in the distance | | Loch Broom, Ullapool in the distance | We were soon at the A835, so went to Ullapool & back but it was rainy& dull there. However, Ken should already have the photo up Loch Broom from the cruise. When we got to the hotel, there were 3 more car-loads of Dutch & no staff but we got in (the Dutch had been here already) & with time to spend before 16:00, Ken did his diary & put the photos in, which he had done yesterday in the bar. We chatted to people in the bar before & after the rations. |
Avis ordered Venison Pasta & Ken, Salmon Lasagne but she did not like hers , so we swapped. In the end, Ken still had to eat nearly half of hers & the pudding she ordered, cooked fruit & ice-cream. All the staff are Romanian & the hotel is owned by Samsung, of all people. Then we went back to the bar & carried on chattering. Our room had single beds, of all abominations.
Friday 16th September 2022 to Diamond Inn, Ponteland
| | |
| --- | --- |
| Up at 7 & away by half past. No breakfast as it is an expensive extra! It was 37 miles to Inverness, during which the only breakfast spot we found had no chairs but high tables, so we passed. The weather was dreary until about Dalwhinnie but we had stopped at Carrbridge, for coffee & bacon-&-egg buns. The road went past Ruthven Barracks, which Ken later incorporated into his Jacobite talk. We stopped in Dunkeld for a pee for Avis. This was in a pay car park (but Ken put up our Blue Badge) & they expected us to pay 50p for Avis' pee. Ken bellowed Get Lost at the man & Avis proceeded, Ken feeling pleased with himself. They could clearly see Avis needed an arm to walk. | Ruthven Barracks |

North of Perth

Kielder Forest in Northumberland
The weather stayed better for the rest of the day except that it drizzled a bit when we actually got to Ponteland, after 288 miles of uneventful driving & a few photos, 2 of Northumberland in Sunshine! The Diamond Inn had promised me a downstairs room but did not say it was in the annex across a side road! Still, it was downstairs. We ate in an expensive Chinese restaurant next door & then, chatted to a retired police Inspector & his wife in the pub bar.
Saturday 17th September 2022 Home
Breakfast but NO cooked breakfast! This will get them a black mark on out bookong.com report. Sunny day & an event-free ride back home, stopping at various places, which all seemed to be full of police, presumably to stop Republican demonstrations at the Queen's funeral. We did not stay on the A1 all the way but went off on the A14 & M11 to get home. Ken made an elementary cooked breakfast (egg, bacon & fried bread) for dinner, having had huge toasties at Gonerby Moor Services, which seemed a long time coming after miles of no food The stages on this trip were: 186 276 148 147 288 297 miles per day. We weres surprised how long the 2nd day was.
---
Contact: Ken Baldry at 17 Gerrard Road, Islington, London N1 8AY +44(0)20 7359 6294 or e-mail him
URL: http://www.art-science.com/Xmas2022/travel-scot.html Last revised 5/1/2022 ©2022 Ken Baldry. All rights reserved.