Ingolstadt was much better than I expected, as it has a fairly intact Old Town in the walls & we found the Hotel Adler just by the pedestrian area, a big, old place. We wandered through the Old Town to the monastery by the East wall & back a different way, finding a restaurant we later returned to after a shower & had a very attentive waitress who ended up writing down our URL. I had a superior Zigeuner - a pork & bacon kebab of vast proportions. Avis had veal & spätzli. Although it is Saturday evening, there were very few people around, which is what we observed in every town over here. Avis kept wondering where everyone was. We must ask. (We never did).
Sunday 10th September
Breakfast was on the first floor & quite good. Strangely, you paid your DM148 (cheapest so far) in the breakfast room. After, we walked round to the famous Kreuztor & doubled back through attractive, ancient streets & picked up the car. We crossed the Danube, already quite wide. Then, I drove down the Munich road B13 & turned off at Puch onto B300 towards Augsberg, which we did not explore but headed south on B17, which is motorway but under construction at Lager Lechfeld (this is the Lech valley). Through Landsberg & round Schongau to Steingaden, I turned off onto the road to Lechbruck, where the mountains, intimated increasingly on the trip, became dramatically visible. It was hard, on B16, to get down to the Forggensee but we found one spot where wriggling under a gate strung with barbed wire, we sat by the water & ate apples. To do what I wanted, there was not time to stop in Füssen for Neuschwanstein etc but we noted that it was a beautiful place & the Hotel Hirsch was the obvious place to stay. Next time in Füssen...is on this link There was a dramatic castle there but nowhere to photo it. I drove over the Austrian border, barely marked &, avoiding the new road (for which I did not have an Austrian permit), drove through Pilach to Reutte to pick up the high Alpine road via the lovely but touristed (this is Sunday) Plansee over the Ammersattel, 1118m, back into Germany. This is nice but there are not the big views I had hoped for. However, there was time to stop at Loopy Ludwig's Linderhof palace.
| | |
| --- | --- |
| The first decent view of the Alps from Lechbruck | Forggensee |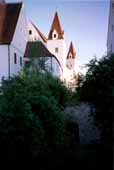 The East end of Ingolstadt's wall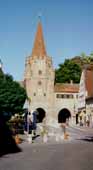 Ingolstadt's famous Kreuztor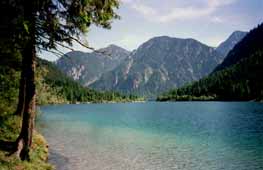 The Plansee in Austria