Beautiful day again. We drove off at about 11, to Hollfeld first on the B22, which is the gateway to Frankische Schweiz, the area of outstanding natural beauty to the SW of Bayreuth, about which I had not warned Avis. We turned into the valley which goes south through gorgeous rocky scenery, stopping at Waischenfeld for coffee. This comes out at Behringersmühle on the B470 & I knew to go up to Gössweinstein above the south side of the now West-East valley but did not know that it had an enormous basilica as well as a castle. We had a look at the basilica & saw a Catholic marching band, where someone said something, they would play a few phrases & something else was said. Very odd.
| | |
| --- | --- |
| Gössweinstein Basilika | Gössweinstein Basilika altar piece |
We went back down & East to Tüchersfeld, which has strange rock formations for 'lunch', coffee & cake. This is very Germanic but not adequate. Then a few miles to Pottenstein, which is a little town & very pretty, where we stopped again. Further along the B470, you leave the Frankische Schweiz area & hit the B2. This is a bit tricky on the map, because you turn East (left), then South (right) on the B85 & just before the motorway junction, take the pretty road to Plech through the Veldenstein Forst. At Plech, we went to Neuhaus in the Pegnitz valley, overlooked by a formidable castle & down the Pegnitz Valley, all twists & turns all the way to Hersbruck, where care is needed to follow the signs to Lauterhofen (a long way away) in order to pick up the road towards Alfeld. This twisty, turny journey was an attempt, successful, to link up roads marked green for pretty on the map & at Alfeld, one goes East on the A6 motorway to the Amberg junction to B299, where we turned South-West to Neumarkt, B299 being another green road but this was the last of them today. We passed the magnificent castle at Kastl. Neumarkt must have had a pasteing in WWII but has been rebuilt traditionally in the middle & has a strategic pedestrian zone which prevents a lot of car movement. We had Hawaii Toast outside a café. We then carried on along the B299 past Beilngries to the turnoff towards Ingolstadt at Paulushofen. This road is still quite attractive &, as the motorway goes parallel, has little traffic.
| | |
| --- | --- |
| | |
| Kastl castle | Neumarkt Town Hall rebuilt after 1945... |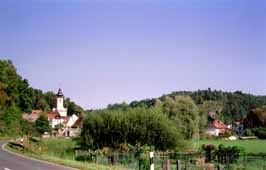 Nankenfeld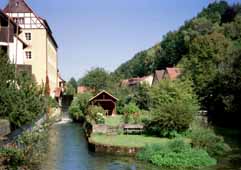 The working Water Mill at Waischenfeld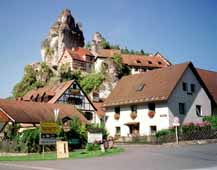 Tuchersfeld with its weird rocks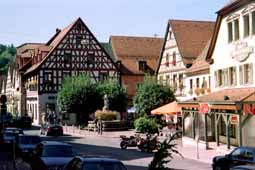 Pottenstein