We had to do a bit of frustrating driving around until we spotted the Hotel Thuringen by the bahnhof (no web-site, ring +49 3643 90 36 75). This looked ok & was, although we were on the second floor. The hotel is DM150 per night for two - cheap, we thought. We walked into the old town for 'tea' at a café on the main Marktplatz, very fat waitress, then did a little wandering by the Franz Liszt Music School. We told the Tourist Office, after ascertaining that there was no concert to be had while we were here (Lohengrin later in the month, soddit), that they needed a Joachim Raff Strasse to go with the other new town roads. Everyone else is in. We then went back to the hotel for an excellent & again, cheap dinner - trout for Avis & a 'Thuringen Tourist' for me. This was pork, bratwurst, 'rosti' but more like Czech potato pancakes, mushrooms & onions with Coupe Danemark for pudding.
Thursday 7th September - Exploring Weimar
Two other English couples in the hotel. As I told one, if you meet English in Weimar, one can be confident that they are reasonably educated. Rain for most of the day. No matter - we were here in the Cultural Capital of Germany! The rain was quite heavy whe we got to the St Jakob's church, the oldest in Weimar (about 1180), where the vicar let us in early. As well. It is unusual in having three galleries with a defunct organ at the top but a new one that the organist was practising on down below. Nice, clear sound. This was where Goethe & Christina Vulpius were married. Then, we went a long way round to the Frauenplein for Goethe's House. This is large, fairly gloomy & full of statuary & plan-chests for his vast collection of prints. There was a special exhibition of prints on show but this is not a house you would want to live in. Unlike Liszt's, which was charming & quite small. The 'Ruins of Athens' fantasy was playing but there were not many memorabilia. To get to the castle, we walked through the Park on the Ilm but it was closed. We went back into town for a slowly served dinner-at-lunchtime in a posh café. Then. to Schiller's much more livable house & to the Bauhaus show in the old Comedy Theatre, which took a long time, as there was plenty of work. A cake in yesterday's café & wrote our postcards, which we posted in an EIIR postbox on the Town Hall, donated by Stratford on Avon, their appropriate Twin Town. This was Weimar done, so we drove out to the West, getting out of the town with some difficulty, on countrty lanes through villages to Erfurt, which turned out to be nice in the centre & on to Gotha, which may have a nice centre but is otherwise grotty. We came back snappily on the A4 motorway & discovered that Stanfords had sold us pups - there are new roads not marked on the map. I did notice that the road we need tomorrow is closed but a diversion is marked, back along the motorway. We had beers in the hotel bar.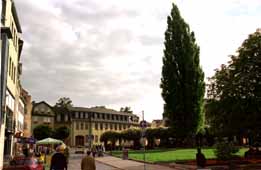 Goethe's house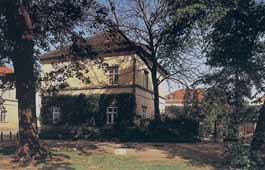 Liszt's house (taken from a postcard)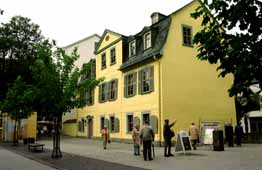 Schiller's house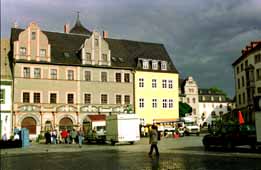 Cranach' house on the Market Square (the greenish one)