| | |
| --- | --- |
| | Passes over the Pyrenees from St. Marie de Gosse |
Passes over the Pyrenees from St. Marie de Gosse
Col de Izpegi (Euskera) or Isepeguy (French) We would be back for lunch - a half day trip. I drove us South via St. Laurent de Gosse & Urt, La Bastide Clairence, Hasparren (which is a most confusing place), Cambo, St. Martin to the Col d'Ispeguy (Izpegi), which was a winding road to the Spanish frontier, taking some photos on the way.
| | | |
| --- | --- | --- |
| Hasparren | Going up the East side | Looking back down the East side |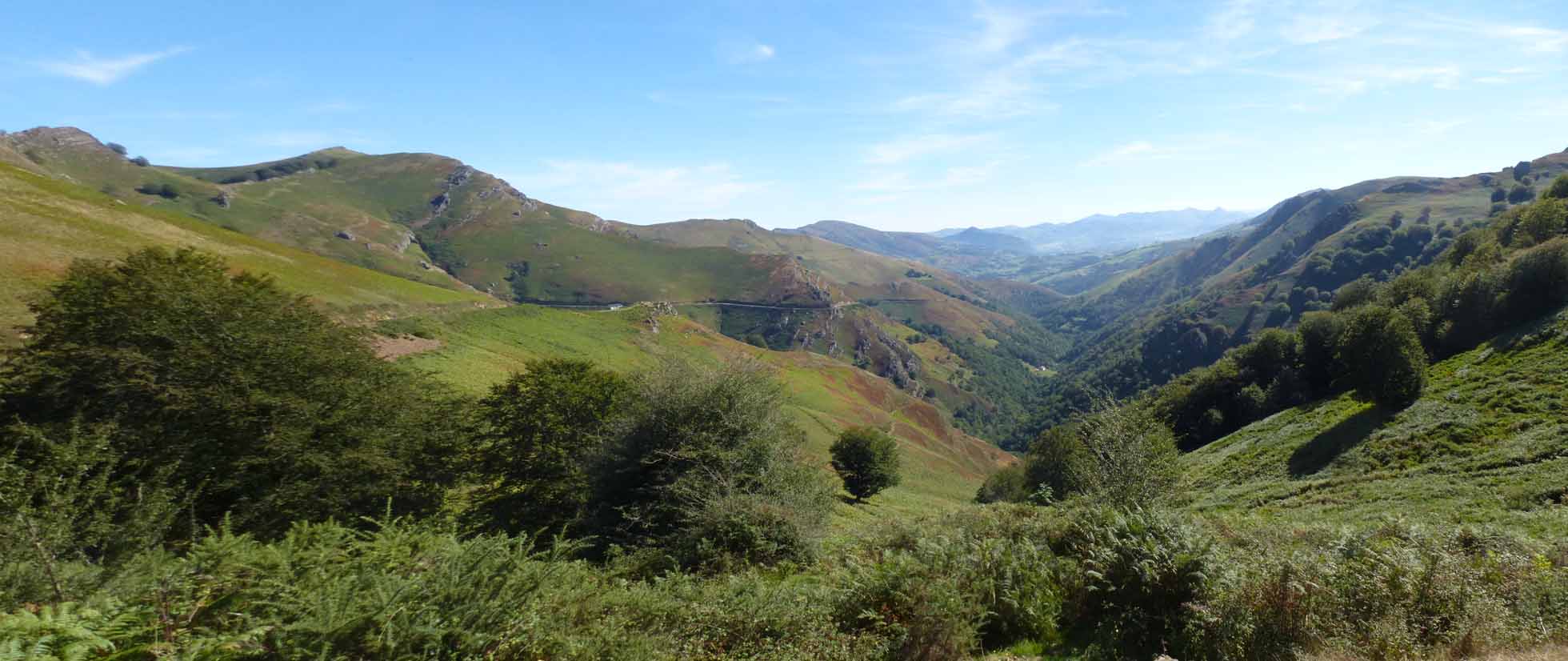 From the Col d'Izpegi looking East

From the Col d'Izpegi looking West
Then, down the Spain side & back via St Pee & Biarritz to Le Luc for about 1340, where a barbecue was being fired up, with copious smoke but Jeff (con-in-law) was in charge. Meanwhile, we ate starters: olives, salami, quiche & beetroot salad. The meat was big sausage, pork & chicken. Delightful.
Col de la Pierre St. Martin (over to Spain) & Port de Larrau (back to France) We went via Peyrourade (over the bridge across the Garve Riveer & turn left immediately at the lights) to Oleron, where we stopped for a look round this old bishopric & the cathedral & had coffees.
| | | |
| --- | --- | --- |
| Oleron | Cathedral under repair | Inside - solidly built. |
Then, I drove on the Arette, where we had a superb lunch of leftovers soup (Garboure) in a big tureen, salami, meats & coleslaw for starters, huge chances of pork with very interesting beans & Avis had Crème Caramel & I had Basque Tart with coffees to follow, at the Restaurant Gouaillardeu (we've been here before) all for €12 each, which Martin later said was the going rate but filled us right up. I set off up the Col Pierre de St. Martin, which is 1860m high but with splendid views all round.
| | |
| --- | --- |
| Arette. Col in the distance | View North from the Col de la Pierre St. Martin. |

View East from the Col de la Pierre St. Martin.
Then, we dropped to Isaba in Spain, turned right onto the 140, passed Uztarrozeto the Port de Larrau, only 1573m, another spectacular road, dropping to Larrau.
| | |
| --- | --- |
| Uztarroze | South-East from the Porte de Larrau |
We went on via Tardets, Mauleon, St. Palais & Bidache back to Peyrourade in increasing heat. Strangely, the Spanish pass roads were of much better quality than the French: Euro-Union money, no doubt. When the Jones' returned, we had to persuade them not to give us too much dinner, which we more or less succeeded in. Even so, it was very good: eggs & poor-mans-caviar from Mud Fish, chicken in cream & butter (!) with more haricots verities & a raspberry tart.
---
Contact: Ken Baldry at 17 Gerrard Road, Islington, London N1 8AY +44(0)20 759 6294 or e-mail him
URL: http://www.art-science.com/Tourism/France/BZ4/index.html Last revised 6/10/201310 © 2013 Ken Baldry. All rights reserved.