AMBASSADORS THEATRE
Jason thought it might be a good idea to have Avis' Carnival of Venice show at the theatre when 'The Servant to Two Masters' had its first West End run. So Avis approached the management through a contact connected with the Islington theatre project & they agreed. The building of the Islington theatre, a bold & risky venture anyway, may be delayed because of the Americans not coming to theatre here due to fear of foot and mouth disease! Now of course there is something much more serious to be frightened about after the events in New York and Washington.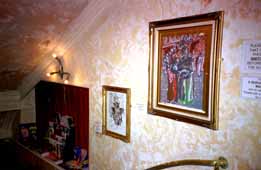 THE ARTISTS' UNION
Avis, in another life, belonged to a group which formed and ran a national Artists' Union in the 70's and early 80's. It worked first to try to get the recognition of artists as workers with rights which they discovered happened in other counties like Holland and Canada. Avis was the Union Librarian and kept its large archive after it folded (destroyed by Thatcherism) in 1982 . There is to be a new 'state of the art' archive at the multi-million pound Tate Gallery extention and the researchers are thrilled that this material exists. They want Avis to write a book about it and use the facilities there. Remarkably, Avis was able to contact the last Union Chair, Charles Gosford, in Gosford, Australia, through one of Ken's Delaforce family members. Avis did write a brochure about the material. See this link.
AVIS SHOWS AT THE 'ARCH'
Doris ('Olive') Page, a friend met on the philosophy course, who came to one of Avis's 'open studio' days was amazed at the quality and variety of work and introduced her to Hannah Swann, who runs the Arch Trading Company in Muswell Hill, which commands breathtaking views of London. Arch is in the redundant railway arches and is painted white with huge wooden doors opening onto Highgate Wood & the path between it and Alexandra Palace. Avis shared this first show as a gallery with Dina Katz, the potter, whose latest work is strong yet fine and desert coloured, complementing the bright colours of Avis's Spanish series. As the arch was full of furniture, the work looked as if it were in a domestic setting, resulting in more sales than usual, being a shop setting rather than a gallery. Hannah is young, energetic & a good business woman who advertised on the front page of papers from Islington to Hampstead & leafletted locally, fairly sharing costs between the three. The three private views attracted our usual suspects, & philosophy club members & Hannah & Dina's contacts. Avis & Dina's work will be available permanently & when Hannah launches a café it will show the Carnival of Venice series.
| | |
| --- | --- |
| Avis explains to Diane Richards | ...and to Isobel & Andrew |
NEW WORK IDEAS
Avis is amazed at the variety of interesting faces of people in Islington's famous Chapel Market. Ken has taken photographs as Avis wanted material for more print ideas. Looking at people in this way revealed that many must still live grim lives of struggle
---
Jason's Art Scene
Jason took Truffaldino in Goldoni's 'The Servant of Two Masters' round the World, to Australia, Hong Kong, Israel (at a rather bad time) & the USA, twice. It ended up in the Albery (photo below) & he was relieved when it finished & he had a well-deserved holiday in Crete. In between runs, he spent much time looking after the boys. Currently & ironically, he is in 'Boy gets Girl' at the Royal Court. Jason was nominated for an Olivier Award for Best Supporting Actor, a strange category except that he supported the rest of the cast. He should have been up for Best Actor, which he is.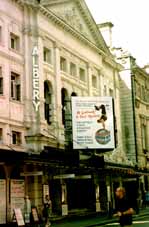 ---
Ken's Art Scene
Ken wrote a piece about Faust but, unusually, was dissatisfied with it, as it was intended to be a Big Statement & spent longer re-writing it than it took originally. At 63 minutes, it illustrates another take on the Faust legend, looking at the social problem of discovering inconvenient truths & being demonised as a result. The Devil however, has the last word. CD cover below.
He has not really started work on the next idea, being distracted by the business at the World Trade Center, a building he had been in a number of times on business & onto who's roof he once took Avis for the view. At the time of writing, he has no idea if he lost a one-time client or colleague but feels that at least part of his next work should memorialise these innocent victims.