XMAS 1999
...was spent on our own.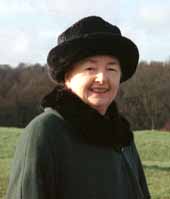 Avis on Parliament Hill on Xmas Day.
Links to other pages
FAMILY NEWS
Ken's niece Zoi graduated from Southampton University in Art & Psychology in the Summer. She returned to England in September, soon found a job with a media company, where she was quickly promoted & digs in Clapton. We all, meaning us, Geof, Lida & cousin Joan, went to Zoi's graduation ceremony on October 27th.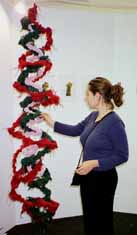 Zoi & her psycho-sculpture
The other niece, Mara, started at Kent University (Canterbury) on a Microbiology degree in September. Our firm, Art & Science, employ(ed) them as what used to be called 'sandwich course' students, which allows us to give them some financial support.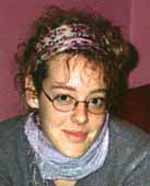 Mara
MORE MISSING LINKS - Ken

Ken's Mother's maiden name was Dullforce, a contraction of De La Force. Ken knew his genealogy back to his 3 greats-grandfather, James. However, a hitherto unknown distant cousin, Terry Dullforce of Wantage, via another cousin, Bernard Cullen, found the connexion from our family tree (now updated) on one of Ken's genealogy web pages to a book by Patrick Delaforce, the importer of Delaforce port, which we can strongly recommend, having tried a bottle. This traces the family back to the 1300s. They came to England as asylum seekers from France in 1685, when the Revokation of the Edict of Nantes meant that it was open season on the Huguenot Protestants, which we were.


Huguenot refugees arriving at Dover in 1685

Ken contacted Patrick who gave permission for him to put the book on the web, giving Patrick his own web site. The American 'cousins' (on the Force Family e-mail network) were very grateful for what was a week's hard work, as the book had to be cut up & scanned. So, Ken has his mother's genealogy handed to him on a plate. Terry sent Ken a vast amount of the data he had collected.

The Baldry side was still wrapped in some obscurity, though Ken did discover that his great-grandmother's name was Harriett Goleby & found his grandfather's birthplace in now posh, rather than slummy Pimlico, the bootmenders having become a dentists. After putting this on the Web, a 5th cousin in Australia, Lee-Ann Goleby e-mailed & supplied much data which promptly went up. Ken's great-grandfather, John Bishop Baldry, was adept at avoiding census enumerators & any other burocracy he could, it seems. So, Ken joined the Suffolk Family History Society & within days, Dennis Baldry, a 3rd cousin filled him in with much more data. Dennis' information takes the family male line back to 1666 or 7, still in the Framlingham area in Suffolk.

Right: The grave of Ken's great-grandfather & mother,
Isaac & Elizabeth Baldry in Dennington graveyard. photo ©Dennis Baldry
click on the photograph for a big (60k), readable version.
MORE MISSING LINKS - Avis

Avis' Uncle Leonard was always a bit of a mystery, as her Mother discouraged contact with her Father's family, a well-known syndrome. However, his grandson, Mark Saltsman-Almond contacted her & fascinating data appeared. Leonard was also artistically gifted & was part of the design team of the Lancaster bomber (the Dam Busters etc) in the last big War. The Almonds are currently moving house but we look forward to meeting them after they have.

Ken became the webmaster for the Anglo-German Family History Society - more under Extended Family.

WILLIAM DANIELS - WE ACTUALLY BUY ONE

Last year, we reported that previously unknown relatives contacted Avis about her great-great-uncle, the extraordinary Victorian portrait painted, William Daniels. Dr Alex Kidson of the Walker Art Gallery (unethically but we didn't mind) tipped off a dealer in Bristol, Francis Greenacre, that we might be interested in a Daniels self-portrait he had. We had a look at it (& also, to our surprise, a portrait of the unrelated Constance de Caumont La Force, details of whom Ken e-mailed to Francis & put on the web) & later, screwed up our financial courage to buying it. It is at the top of this page.
RICCARDO LORENZO RIZZI
...was born on October 25th to Ken's cousin Lily, Liz, Elizabeth, mightily pleasing her Italian in-laws with a first grandchild for the family, not to say Paolo, who also had something to do with it. Riccardo shrinks to Ricky in both Italian and English, hence the name. Lorenzo is for his grandfather.
JASON AND THE FAMILY

Freddie started proper school this Autumn & Pip is now going to nursery school. We visited them in Brighton several times, to which the kids had moved in the Spring, but Brighton is a good place to visit any time, except when Caroline, Jason's wife in law if not in practise, is there, as she thinks we are such terrible awful people.

The photo shows Jason carrying Freddie & Pip walking at Freightliners Farm in Islington, another victim (see below) of the Cuts.