Jason's Art Scene
Jason had the lead rôle in Goldoni's 'The Servant of Two Masters' with the Royal Shakespeare Company at The Other Place at Stratford, which we went to see just before Xmas & later, at the 'Young Vic', to which we took a party of 10 of our friends. This was a tremendous tour-de-force, as he is on stage for most of the three hours & a great success, the press waxing lyrical about him.
Later, he took it on tour through England & it is now at the New Ambassador's Theatre (see the cover of this card) for which we assembled 10 more of our friends. In the New Year, it goes on tour to foreign parts, Australia, Israel & the USA. How's this for reviews:-
"..giving a dazzling performance, based on desperation..." (Guardian)
"...one of our most versatile & accomplished actors notches up an even more elating triumph...a masterclass in fleet, mischievous comic timing..." (Independent)
"...miraculously combines the insolence of Johnny Rotten, the cringing servility of Norman Wisdom & the splendidly aggrieved quality of Terry in the Likely Lads...approaching comic perfection." (Torygraph)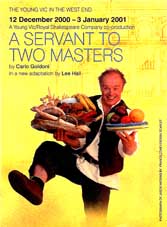 The advertisement for Avis' son, Jason Watkins as the servant, in Goldoni's
'The Servant of Two Masters'
Currently at the Ambassadors Theatre in the West End
Ken's Art Scene
Ken finished the ' 9 Studies' & went on to use the same note-row for a companion piece to 'Sea & Mountains' called 'Woods & Streams' but it is rather different in character, being less rhapsodic, more complicated & the human element eventually intrudes destructively, the way it has. The seven continuous movements are:-
1. Pines on Rannoch Moor. They resist a storm which breaks out.
2. A short Spring to the Sea. The Glencoe beck from its spring to Loch Leven.
3. AD 9 - the Hermannschlacht. 15,000 Roman soldiers cross the Rhine. Less than 100 come back. The Germans are relieved rather than triumphant.
4. Rivers with rapids.
5. Lithuania. The dense and trackless Lithuanian forest with clearings full of flowers.
6. Barcarolle: rowing through 'developed' country.
7. Man, Felling and Pollution. Man uses the wood and water for recreation and industry.
He is currently working on a piece about Faust.