| | |
| --- | --- |
| | Iceland Cruise July 7th 2017 - Akureyri Page |
Seyðisfjörður

On Thursday 6th July, we were supposed to anchor at Seyðisfjörður, as the ferry would occupy the berth until 11:00 but the Captain found he could not even anchor on this nasty day, so all the tours were cancelled & refunded & the ship set sail to Akureyri, arriving in the evening.
Akureyri

Arriving at Akureyri in the evening
Friday 7th was a much better day, although the Sun did not actually shine on us until the sail away. We were om an all-day coach trip which went down the fjord on the East side, up over a pass into (I think) the Tjörnes Valley. We went South to Myvatn, which appears to be a district with a large lake named after it. We stopped at Reykjahlio for a photo over the lake.

Myvatn Lake from Reykjahlio
Then, over a lowish pass in recent volcanic hills to an area with steam pouring out of the hillside & stinking mud fumaroles
at Námafjall, Hverir.
| | | |
| --- | --- | --- |
| The hillside with stean pouring out | Foul streams | Stinking fumaroles |
| | | |
Back over the hill, we went to an area called Dimmuborgir, which had dramatic lava columns, built where lava ran into a now-gone lake. They are allegedly trolls but so is a lot else! There were many wild flowers here.
We stopped at some currently redundant small craters, then moved on to the fairly new Hotel Laxa, where we had lunch. We gathered that it was there for the salmon fishing, otherwise, what was it doing in this lava field.
After a lunch of soup & trout, we went back as far as the spectacular waterfalls of the Godafoss, the Waterfall of the Gods, an appropriate name. Then, back to Akureyri just in time before the ship set sail.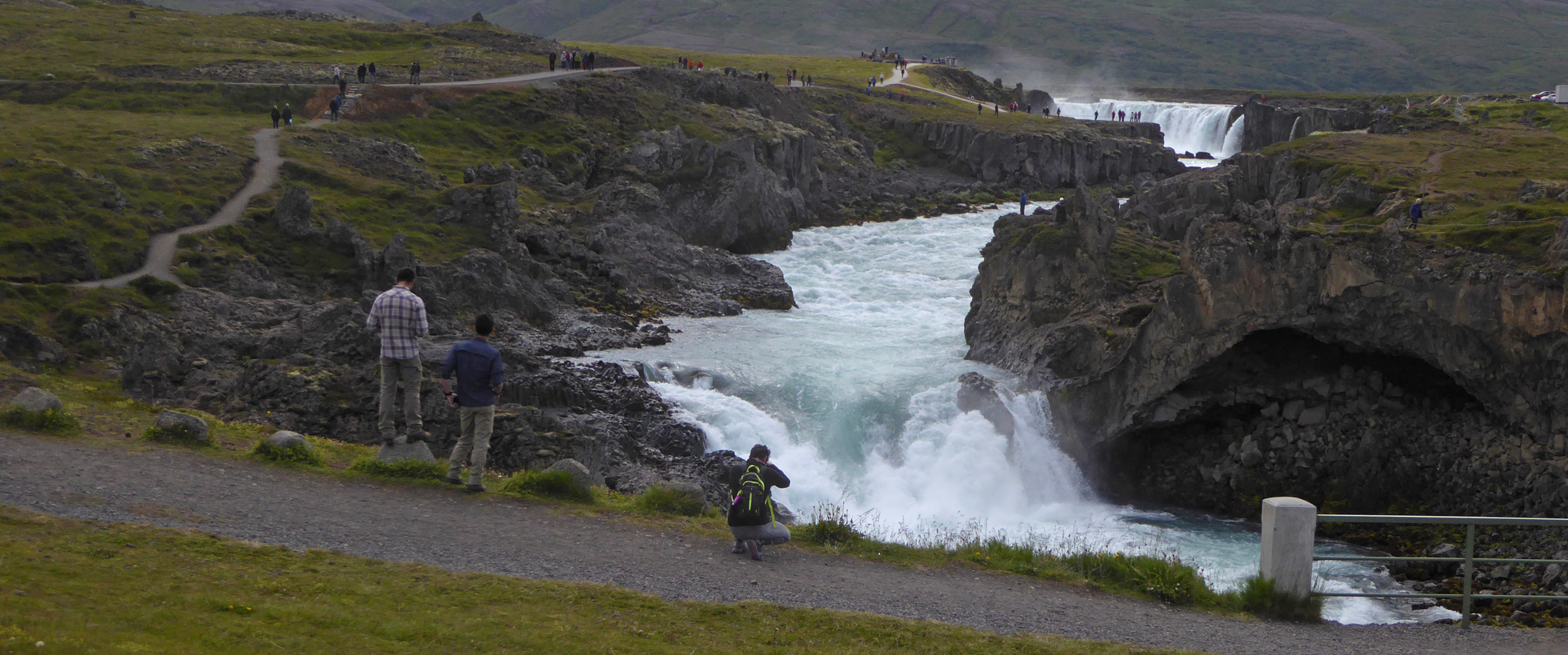 Lower & Upper Falls

Upper Falls

Above: Akureyri from opposite across the fjord
Below: Scenes along the fjord as we sailed out
As a bonus, we saw a number of Hump-backed Whales disporting themselves in the fjord after we left.
---
Contact: Ken Baldry at 17 Gerrard Road, Islington, London N1 8AY +44(0)20 7359 6294 or e-mail him
URL: http://www.art-science.com/Tourism/Cruises/IL2017/CR6.html Last revised 16/7/2017 ©2017 Ken Baldry. All rights reserved.