| | |
| --- | --- |
| | The Gerrard Chronicles 2016 - The Campaign Trail |
---
THE STRIKING JUNIOR DOCTORS Jan 12th, Feb 10th, April 26th
The government are trying to force the junior doctors to accept a new contract, which is an attempt to get them to work weekends for, effectively, nothing, as the government does not want to fund its election promise, made both foolishly & mendaciously, to have a seven day elective NHS. The doctors were not having any of it. Having much to thank the NHS for & having had a bad experience with a crooked dentist two years ago, I took an active part in supporting all the strikes. What the government really wants is to have everyone except the rich on minimum wage, zero hour contracts, including the Middle Classes.
| | | |
| --- | --- | --- |
| In the frame on Strike 1 | Engaging the public on Strike 2 | Showing them the best way to put on stickers (Strike 3) |
---
SARAH REED February 8th, 23rd & March 3rd
Sarah Reed died in still unexplained circumstances in Holloway Prison on remand for attacking a social worker who was trying to rape her. Being on the mailing list of BlackoutLdn (Kayza Rose's charity) Ken went to the two vigils (left & centre below) at the prison. He keeps in touch & at the big demo outside the BBC on March 3rd, we had a banner (right). Doris Hollander was there, too.
---
ANTI-TRIDENT DEMO February 27th
The usual suspects for the usual reason. Some of the banners were a bit 'Gay whales against racism'.
---
THE SHOCKING MURDER OF JO COX MP June 17th
This was terrible, just days before the EU referendum & perpetrated by a Brexiteer. She was a very nice person & a local to her constituency. Ken went straight down to the vigil on Parliament Square. (Avis couldn't because of her knee operation).
---
THE EU REFERENDUM June 24th
We did what we usually do for the camaign. Ken has been a life member of the European Movement for many years & we wrote them a big cheque, confident that we were going to get our money's worth. After all, we had been a business doing about 95% export, quite apart from our identification with so many ancestors from Mainland Europe, as we have been calling it since 1973. While all the Bremain voters voted for one reason, to stay in Europe, the Brexiters voted for many different reasons, combining to commit an act of sheer, stupid idiocy that is likely to condemn our country to oblivion. We expect food raioning to be just around the corner. On July 2nd, there was an essentially futile march in support of Bremain but it did allow the Sensible Tendency to comfort each other.
---
JEREMY CORBYN - YOUR LEADER NEEDS YOUR SUPPORT June 27th
The Parliamentary Labour Party conspirators, who have never reconciled themselves to the leadership of Jeremy, despite his consistent winning the Prime Ministers Questions battles, had been cooking up a plot to get rid of him from April (this, according to leaks). The PLP mutinied & passed a vote of no confidence in Jeremy forcing yet another leadership election at great & futile expense to the Party. They had difficulty in finding a suitable candidate against him & failed, putting up some mumpty from Wales no one had heard of. Ken went to the first rally in Parliament Square, pictured below, sent Jeremy £500 for his campaign again & joined in the War on Facebook.
---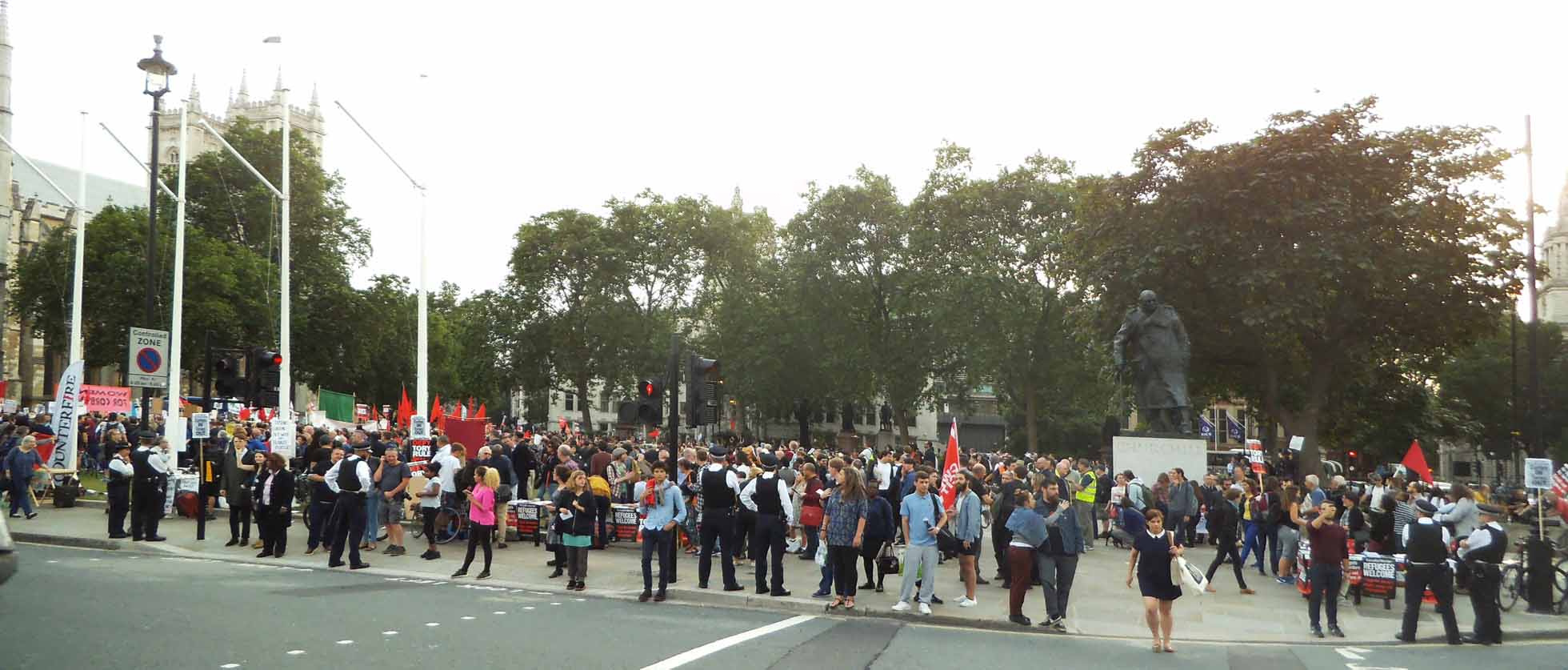 ---
REGISTERING AMERICAN VOTERS IN LONDON September 21st
| | | |
| --- | --- | --- |
| The Avaaz group, to which Ken subscribes, had organised a 'battle bus' to encourge ex-patriate US citizens to register to vote & sign up to vote against Trump in the US Presidential Election. (For charity registration reasons, they could not endorse Hilary Clinton but could un-endorse Trump. Don't ask!) Ken went down to Malet Street in case they needed the numbers but sufficient Americans turned up to let him off. | | |
...AND A FAT LOT OF GOOD THAT DID...
...as we got Trump, anyway. The following reporting year may turn out to be 'interesting'.
---
---
Contact: Ken Baldry or Avis Saltsman, 17 Gerrard Road, Islington, London N1 8AY +44(0)020 7359 6294 or e-mail him or her
This page's URL: http://www.art-science.com/Xmas2016/campaign.html Last revised 1/12/2016 ©Ken Baldry & Avis Saltzmann 2016 All rights reserved but print it off if you want to.