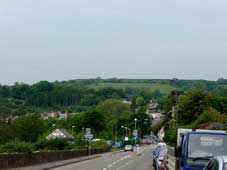 Solsbury Hill from Batheaston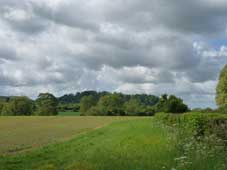 Cadbury Castle from the North, built about 500BC & modernised in 500AD, about Arthur's time.
A trip with several objectives. Ken needed photos for a probable "King Arthur" talk, so we first visited the large Solsbury Hill Iron Age Fort near Bath, a possible "Mount Badon" location, where Arthur thrashed the Saxons. We stayed in the Redcar Hotel in Bath, then moved on to South Cadbury, a possible Camelot (the locals are certain, of course). Then, on to St. Ives, staying at the Thurlestone Guest House in Carbis Bay for a not-very-good show in the Tate Gallery & some touring around, largely in sea fog. We did meet up with Ken's gorgeous distant cousin Elizabeth Jane Baldry (below) playing the harp at a wedding.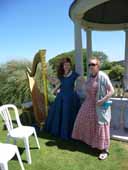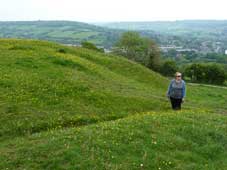 Avis in the Solsbury Hill Fort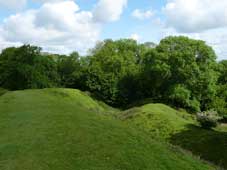 2 ramparts of Cadbury Castle, near the modernised gateway & track up.