Avis' Scene
Avis is still working at the Tate Archive & has continued her correspondence with Nick Serota The volunteers have now sorted nearly 3,000 artists files occupying 720 feet of shelf space. She has been working on her sketches of Chapel market characters amidst their merchandise in order to work them up for prints this year, alhough she has not decided on the methods. She has also started a new series of Studio Visits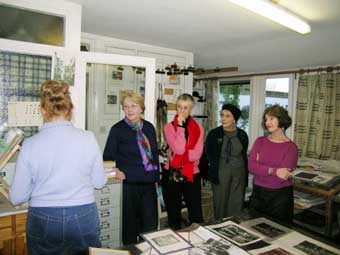 Avis giving a Studio Visit talk to
Jill, Celia, Eve & Linda
from the Lilian Baylis Arts Club
Jason's Scene
Jason is concentrating on film & television nowadays, so most of the stuff he has worked on this year has not been seen by the viewing public yet. But he appeared as the 'seen-it-all' cop in "Sex Traffic" on C4 & as a victim of police violence in "Conviction" on BBC3 in November & on BBC1 in January. He will be seen in the lead with some of our friends from the Lilian Bayliss Club in "Wedding Planner", a feature film. He was seen on-stage working with Harold Pinter in "Six Sketches" & "The Dumb Waiter" at the Oxford Playhouse.
---
Pip's Scene
Yes, Pip has one this year as well. He was The Boy in a school production of "Where the Wild Things are". It is a sign that he is following in his father's footsteps.
---
Ken's Scene
After fiddling with it for nearly two years, Ken finished his musical ad hominem attack on the alleged 'character' of George W. Bush. This opus 25 is called 'Bang!' which has a lot of drumming in it, which Avis does not like. The music is very complicated but it is trying to illustrate the workings of a quite capable but totally dysfunctional mind. He is working on something pleasanter now, for a chamber orchestra.