In March 2010, we tried something new, a cruise but up beyond the Arctic Circle to the North of Norway, organised by Cruise & Maritime Services via Newmarket Holidays as one of the "Guardian" newspaper deals we have been taking in recent years. The ship was the "Marco Polo", once Russian & called the "Alexandr Pushkin", which I wish they had kept. Built in East Germany in 1965, it had been modernised in 1972 & again thankfully, by the Greeks in 1993 to remove the last of the 'troopship' feel. Given where we were going, the important thing is it has icebreaker bows. This is it (©someone else, let me know if you want an acknowledgement):-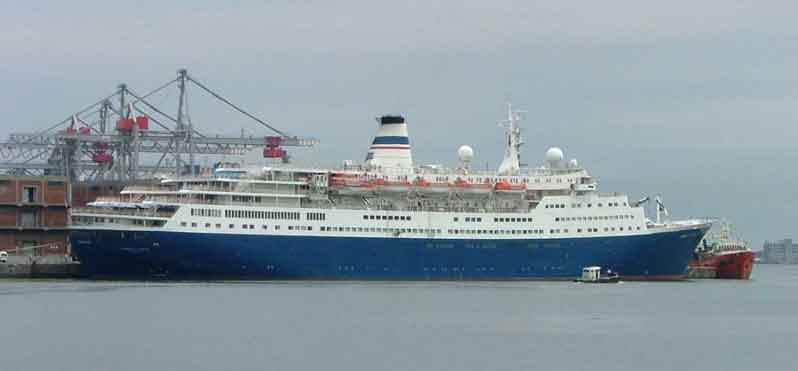 We picked it up at Tilbury on Monday 15th March.
| | |
| --- | --- |
| At Tilbury Town (awful dump - like something left over from World War II), a courtesy bus soon turned up & took us to the terminal. There, we queued to hand in our ticket & passports, then queued again for security, which was airport-style without having to take our boots off. (We took climbing boots on our feet, as the conditions under foot promised made this sensible but I was not going to put them in the bags). After that, it was err 'plain sailing' except that our photos were taken twice, once by a courtesy girl from the tour company & by security as soon as we got aboard. Avis, who's hair needed attending to, was Not Pleased. A girl from, presumably SE Asia, took us on the route march to our cabin, which was very nice & almost the cheapest. We unpacked into the copious space available in drawers & wardrobes, although the cabin is scarcely large. The bathroom has a loo & shower & decent wash basin space, photos below. | |
We went up three stories to the Magellen Deck, which is where most things happen, had a free cup of tea at a self-service point by the empty swimming pool & which I promptly started calling 'the samovar' although it was coffee, tea bags & hot water. This was followed by lifeboat drill. Most of the crew are either Russian (spassiba comes in useful) or, it seems, Romanian (although it turned out that many countries, including Burma & India, were represented). When we lined up in fours for the lifeboat, I could not hear what the girl was saying because of noisy machinery behind me but Avis did. I had been joking with the others about, who do we eat if we are in the lifeboat a bit too long? No kids allowed on this trip, so draw lots was the consensus.
| | | | | |
| --- | --- | --- | --- | --- |
| Tilbury Terminal | Waiting for Life Boat Drill | Our cabin looking in | Other way | Bathroom |
| | | | |
| --- | --- | --- | --- |
| Marco's Restaurant | Marco's Restaurant | Captain's Club | Palm Garden |
We finished unpacking & went to the Waldorf (!) Restaurant for our dinner, in the company of a nice guy, Colin, his pretty wife Carol & the rather quieter David & Ronnie. They were Army officers. I think they had made an effort to sort tables by class. as I had put 'Prof' under title on the booking form. (A glance round revealed that I was under average age at 66 & probably, well under). The food was good, adequate rather than plentiful & probably enough for this type of trip. After, we went to the 'classical piano' in the Captain's Club. The pianist was Awful, playing automatically like a pianola. Words like: expression; nuance & rubato were foreign to her. We talked to another couple from Chichester during this ordeal. They are friends of the theatre in which Avis' son, Jason, will soon be performing. She was a hooray henry doubtless from Surreh but not typical: there seem to be a lot of grockles on this trip. We retired at 2130.
Contact: Ken Baldry at 17 Gerrard Road, Islington, London N1 8AY +44(0)20 7359 6294 or e-mail him
URL: http://www.art-science.com/Tourism/Norway/NC/index.html Last revised 25/6/2010 © 2010 Ken Baldry. All rights reserved.