| | |
| --- | --- |
| | Alpine trip 2017 - Silvretta Page |
The Silvretta High Alpine Road
Day Seven Breakfast was good & the bill altogether only €90. The sky was largely blue when we got up at 07:45 but some cloud moved in, not enough to sabotage Plan A, so went over the Silvretta High Road, toll €15, with photo stops along the way. The top at Bielerhohe is impressive & it was interesting to look up the way I had wanted to go in 2009, weather not permitting
| | | |
| --- | --- | --- |
| From the hotel window | Up the Paznauntal | Galtur |
Below: Along the Silvretta High Alpine Road before Bielerhohe

By the Silvretta See looking East

South down the Silvretta See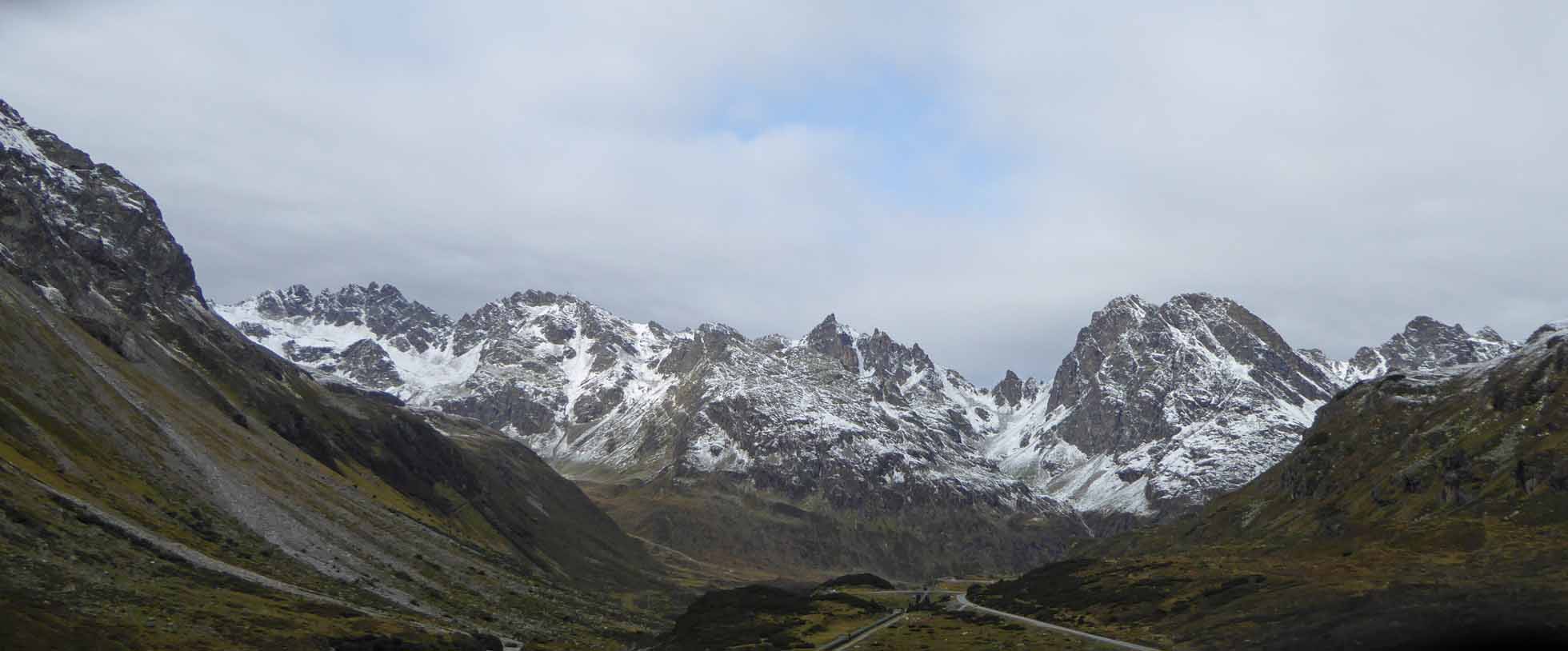 West from Bielerhohe

The Silvretta Dam and view to the South-East
| | |
| --- | --- |
| The Vermuntsee looking South | After the Vermuntsee, a lower-level reservoir, going down comprised over 30 tight bends to get to Partenen. There was quite a bit of snow on the tops, see the photos. It was very nostalgic for me, going through Gaschurn & St. Gallenkirch but from Schruns to the motorway was a bit boring. The motorway just goes into Germany but the first junction was closed, so we went a bit further & got onto B31, which should be a motorway, judging by the vast volume of traffic on it. We stopped for lunch at the Drei König in Hagnau but dinner was at 5. However, we were allowed pees. When we got to the proper motorway, there was a services at Hegau with a decent tagesteller not long before we had to turn off towards Freiburg in Breisgau. It had drizzled on & off, as promised on Accuweather. Not while we were getting muddled in Breisach & Colmar, nor over the Col du Bonhomme, after which we filled up in Anould, one of the boring villages here. |
It is dearer in France but this was at a Super U, so cheaper than elsewhere (€119.9 v €129.9 per litre). When we got onto the D59, the rain poured down & driving became a Bit technical, especially when overtaking lorries to avoid the spray at 70mph. I wanted to get to Nancy by about 7 (achieved), as I did not want to start too far South tomorrow. The road in is the top of another motorway, A338 & the views unexciting but it did lead us to a Hotel Ibis fairly quickly & I did not get too wet getting us into it. The room has an actual bath but we had snacks, ice-cream & paté in the bar first. The trip back to Blighty the next day was the usual mixture of grey skies & downpours, only improving as we approached Lille.
---
---
Contact: Ken Baldry at 17 Gerrard Road, Islington, London N1 8AY +44(0)20 7359 6294 or e-mail him
URL: http://www.art-science.com/Toursim/Itay/Cortina/CR7.html Last revised 16/9/2017 ©2017 Ken Baldry. All rights reserved.