| | |
| --- | --- |
| | Dublin & Canaries Xmas Cruise - 17/12/2014 - Dublin Page |
Dublin
Saturday 20th December 2014
Woken at about 7 by Boudicca turning into a massage machine. I always wonder how it is that 28,000 tons of iron can shake like that. We had free shuttle tickets but there was a rush expected, so they had a boarding pass system, which worked very well, as we went straight out to a bus, of which, there seemed plenty. It stopped in Kildare Street, as before & we walked to St. Stephen's Green but the Xmas Market did not open until 12, so we walked up Grafton Street (Dublin's "Regent Street"). We turned left to Dublin Castle, which was on my bucket list, as coach tours cannot get in easily.
| | | | |
| --- | --- | --- | --- |
| By St. Stephen's Green | The Music School | Another Music School | Quarter |
| | | |
| --- | --- | --- |
| A charity for landlords | Dublin Castle | Dublin Castle |
| A charity for landlords | Dublin Castle | Dublin Castle |
| Dublin Castle | Dublin Town Hall | Dublin Castle |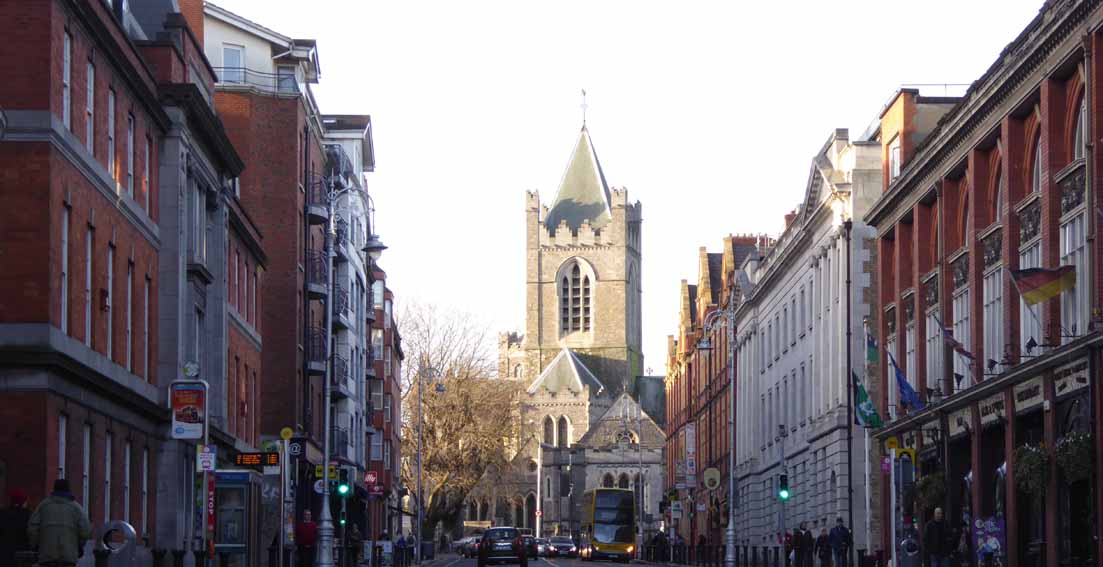 St. Anne's Cathedral
It was a clear, sunny day for most of the time but there was a wind, so it felt very cold. We walked down to the river & across to the Caffe Mocca, which we had.

Up the Liffey towards the Four Courts

Down the Liffey towards the Custom House
Then, to O'Connell Street, over the bridge & down to the Xmas Market, now open. We could see the point of a 12:00 start, as it was mostly food. Meanwhile, many more people had appeared.
| | | |
| --- | --- | --- |
| Halfpenny Bridge | O'Connel's Statue | The Post Office |
| Customs House | Bank of Ireland | Bank of Ireland |
| Trinity College | Interesting building | In the Xmas Market |
| In the Xmas Market | The Xmas Market | Bram Stoker's House |
From the market, we went back to the bus & ship for a light lunch. I went back on the shuttle, through horrendous traffic, as I wanted to explore the pedestrianised old town, which is not that picturesque but one would think that James Joyce's "Ulysses" had actually happened.
The "Temple Bar" pub seems to have given its name to the whole area but, presumably, there was a Temple Bar here somewhere.
| | | |
| --- | --- | --- |
| The Temple Bar pub | The Temple Bar pub round the corner | |
The traffic was a little lighter on the way back but the driver picked a subtle route. Back on the ship, we had tea & I started editing photos. Dinner was Xmas Dinner, although Avis had the sea bass. After, we read in the Neptune Lounge until the very excellent comedian Bob Taylor came on with a few new gags & played & sang Beatles, as one would to largely Liverpudlians.
Overnight, we sailed back to Liverpool.
We got our new bus passes at 10 & walked against the gale, to the Tate Gallery. The Andy Warhol special show was predictable & the German woman was rubbish but they do have a few good paintings, including Cezannes & a long 1948 Jackson Pollock.
| | | |
| --- | --- | --- |
| New Beatles Museum | Liver Building & modern ones | A couple who had heard me lecture asked if I was doing more. Not this trip. The show team did a gigthree3 previous cruises, Marilyn & Pam were there & they said Win was also on the ship but has not been seen yet. There was another couple of women who came to our front table we had met before & I swapped seats with Anne, the little one, as she could not see the show through me |

Albert Dock
---
---
Contact: Ken Baldry at 17 Gerrard Road, Islington, London N1 8AY +44(0)20 7359 6294 or e-mail him
URL: http://www.art-science.com/Tourism/Cruises/DC2014/CR1.html Last revised 1/6/2015 ©2014-2015 Ken Baldry. All rights reserved.