In 1463 Bernard and his son Bernard were shown on the Aurillac city charts, one as a 'sutor' or merchant supplying the army and the other as a merchant. Both father and son had friends in London including John Dort, a Gascon trader.
On 30th June 1471 in the 2nd year of Edward IV's reign, the Privy Seals Rolls of the Tower of London record (file 2) "John Dort, Gascoyn, supplicates the King in order to sustain two priests for two years in the Church of St. Martin in the Vintry, London, to say masses and prayers for the soules of the Lord de La Forse and Isarn de la Bernia, Lord de Gensac, slain at the battle of Barnet (14 April 1471) in the Kings service, whose bodies are buried in the said church, for leave to trade for a yere with a ship or ships of 200 'tunnes'.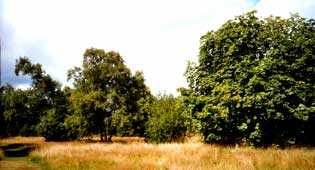 The Barnet battlefield today, seen from the Lancastrian side, although the line of battle swung anti-clockwise & this ground was later occupied by the Yorkists. The rows of hedge thickets & the trees were much the same in 1491, although the thickets were thicker & pigs would have rooted up much of the grass. The main road to the North ('old A1'), then as now, runs through the heath. The battle was fought in thick mist & 'we' (the Yorkists) won. One hopes Bernard knew we were winning before he was struck down.
"The battle of Barnet was fought on a cold grey Easter Sunday morning between the Yorkists and the Lancastrians, but including many professional mercenaries from Gascony. The Duke of Burgundy had fitted out and financed an expeditionary force for King Edward, who landed in March 1471 on the River Humber. Both armies comprised three battles in line. On Edward's right flank, his 17-year old brother Richard (later King Richard III), performed much better than the more experienced Lord Hastings on his left. The diagrams opposite illustrate the lucky Yorkist victory.
History does not relate whether John Dort's request was granted. Possibly it was, because the dead Lord's son Bernard had become Ambassador to Spain for King Edward IV seven years earlier and he was obviously a valuable servant of the Crown.