The London weavers' first charter was received in 1155 and was the first Royal Charter granted to any London craft. In 1191 the merchant guilds won control of London. They offered King John an annual payment if he would suppress the weavers guild. John did so in 1200. Henry VI in 1446 took the weavers under his personal protection. The influx of highly skilled French silk weavers and throwsters in the 17th century caused a lot of dissension with the existing English weavers
Apprentices usually started at the age of 14 and were admitted to Guild freedom after 7 years, aged 21. (A very useful guide for genealogists). The 11s.10d. charged as admission included a 'free' silver spoon valued at 5/- or 8/-.
The Guildhall library (manuscripts) keeps nearly all the original weaver records. MS4660, MS4656, MS4657 etc. The nearby Alderman's Court keeps the Freedom indentures for each admission after about 1685. This is most helpful as names of fathers and addresses are usually noted on each indenture form. Lastly the Huguenot Society Volume 33 includes excellent extracts from about 1660 of Huguenot weavers, including details of some of their misdemeanours.
In 1409 Bernard Fort of the Gironde was a Tisserant, 'Oweure' or weaver, the first recorded in the family.
For at least a hundred years, from 1530 to 1630, Delaforces in London. Calais, Lille, Sedan and Valenciennes in northern France, were engaged in textile trading with wool. and fine lawns and cambrics. At an early stage therefore Delaforces were involved in a kindred trade of silk throwsters and weaving.
The Huguenot silk weavers, refugees from France were much in evidence in London in this century. Apart from the various Jaques/James there were: John Delfos a Burgundian (i.e. from Burgundy-controlled part of the Low Countries, possibly Bruges) living in London for religion' was also shown as John Delfonce/Delfosse' and his wife Katherine (Gergart, see Threadneedle Street capers), daughter Jane 'all burgundians living at St. Martins Ontwiche (in the fields). Parish of Creplegate Without as Dyers, makers and weavers of Threde in the House of Anthony Agagh, public notary, worshipping at the Duche church in London in the period 1566-1571 came into this realme for religion about V years past.
Later Francis de Fosse/de la Fosse a journey-man weaver in 1582 was living in London and shown as a Master Weaver in 1583 and born in 1560.
In 1592 Gilles, Joc, and son Peter Foyse were silkweavers living in Tooley Street, south of the river Thames.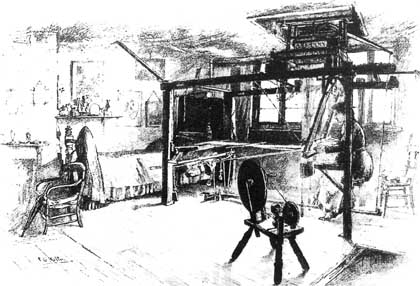 A London silkweaver at work. 19th Century.
(A)

In MSS 4556 Vol.1 of original Weavers Records are shown:
Danyell Defowce, stranger, weaver admitted 10 July 1623
Fraunces de Fours, stranger, made free weaver 28 November 1627.
John Delforto admitted for member, cert. of Fr. Church 25 May 1635.
Peter de Fallso admitted for member after Denization 25 May 1635.
Jaques de Fos/Vos weaver admitted November 1638.

(B)

Volume 33 of the Huguenot Society has extracts of early Huguenot Weaver Records.

| | |
| --- | --- |
| 18 Feb 1657 | Francis Defore app. to Phillip Defore his father. |
| 5 Sep 1664 | James Delafosse, son of Anthony, of Stenheath, Middlesex admitted a forraigne brother 11s.10d. |
| 17 Dec 1666 | John Delafe. . named Weaver. |
| 19 Oct 1668 | Stephen Delafosse upon certif. from Canterbury admitted a for. weaver. |
| 16 Nov 1668 | Ja: Delafosse fined 6s.8d. for reproaching yeomanry and resisting search. |
| 16 Nov 1668 | Abra. See brought in John Delfoss. |
| 17 May 1669 | Stephen Delafosse a weaver (Master). |
| 18 Jan 1669 | Charles Delfoss having been here a year were deemed to be admitted. |
| 13 Jun 1670 | Charles Desfosse having served at Valenciennes admitted member. |
| 30 May 1670 | James Delafoss admitted for weaver. |
| 20 Jun 1670 | John Delafosse had a fortnight to prove his service. |
| 13 Jun 1670 | John Desfosse admitted. |
| 28 Feb 1676 | James Delafosse app. to Abra: Godowne. |
| 7 May 1676 | Isaac Delafosse app. to Fra: Hilder and made free 9 June 1684. |
| 30 Jun 1684 | Phillip Delfosse served in Valentian, attested by Anth: Lansee for W(eaver) admitted a for.w.51 (age). |
| 30 Jun 1684 | Gosse Gallis served at Valentian, attested by Phillip Delafosse for w. and a member of the Fr. Church is admitted 11s.10d. 5 Jan 1685 Fra(ncis) Noah Delfoss appr. to Phill. Delfoss his father. |
| 31 Mar 1685 | He. Hess for. w(eaver) was very sorry for his offence and pretended his ignorance by his not understanding English. He paid a fine of lOs. and promised to conform. John Delfoss for the like offence paid 5s. |
| 2 Mar 1685 | John Delaplaus (sic) a master to Peter Flameng. |
| 8 Sep 1685 | Alex. Barneville appt. to Cha: Delafosse for .w. |
| 3 Apr 1693 | John Delavoer (sic) admitted Master. |
| 1706 | Pierre Lefos at weavers baptism. |
| 5 Sep 1711 | Peter Delafosse appr. to James, father. |
| 11 Apr 1715 | James Fosse Master. |
| 28 Jan 1715 | John Delfort a Master to James Cane. |
| 15 Dec 1718 | John Delaforce made Free from Robt. Excerbee Citizen. |
| 4 Jun 1722 | John Le Fause Master. |
| 11 Mar 1723 | Robert Griffin appren. to John Delaforce. |
| 7 Sep 1724 | John Delforce appr. to Wm. Norton. |
| 1744 | Charles Delafosse weaver without being a Freeman. |

(C)

Chamberlain's Court Records at the Guildhall (include some non-weavers)

| | |
| --- | --- |
| 1. | Peter Dolforce, son of James of Stepney, apprentice Weaver 1692, became Free June 1699 (i.e. born 1678). |
| 2. | John Delaforce, son of John, silkthrower, app. 9 Jan 1704, Free April 1712 (i.e. born 1690). |
| 3. | John Delaforce, son of Isaac, weaver, of St. Dunstans Stepney, app. to Robert Excelbee, Jan 1707, Freeman in 1718 (i.e. born 1692). |
| 4. | Jacob Delforce, son of James, weaver, app. to John Clary, app. 4 May 1731, Free in mar 1750 (i.e. born 1717). |
| 5. | James Delaforce, son of Peter, taylor, of Bethnal Green, app. 1745, as Weavers, Free April 1753 (i.e. born 1731). |
| 6. | John Delafors, Freeman of Spectaclemakers (pd. 46/8d.) 2 Sept 1766 (i.e. born 1745). |
| 7. | John Delforce, son of James, citizen & weaver of London, was app. to John Clary (see 4) 6 June 1737, Freeman June 1744 (i.e. born 1723) brother of Jacob. |
| 8. | John Delaforce, son of John, St. Dunstans in the West, with licence & consent of the Governors of the Hospital of Bridewell, London, app. to Thomas Roay, citizen and Musician 11 Sept 1741. Freeman 17 Nov 1749 (John Dulaforce) Bridewell Chapel & Hospital & Precinct Church, near St. Brides, Fleet St. (born 1728). (Permission might be needed as a Musician to start apprenticeship under age 14). |
| 9. | Jas Delfors, son of James, Mile End New Town, weaver, app. Thomas Bampton, 6 Aug 1744 for 7 years but Free only in June 1769 (born 1730). |
| 10. | Samuel Delaforce, son of John, Musicianer, of St. Botolphs, Bishopsgate, Carpenter, app. John Speere, then Mr Bunyard, app. 5 July 1763. Freedom Sep 1770 (i.e. born 1749). |
| 11. | Daniel Delaforce, son of John Delaforce, St. Botolphs, Bishopsgate, Taylor, app. to Stephen Skinner as Barber. £5 paid by father John 5 Mar 1765, Free Aug 1775 (i.e. born 1751). |
| 12. | William Delaforce, son of John Delaforce, weaver, of Castle St. St. Matthew Bethnal Green, app. Oct 1748, Freeman 1752 (i.e. born 1734) weaver. |
| 13. | James Delaforce, son of Thomas, weaver, app. 6 Aug 1793, Free Feb 1801 (born 1779) weaver. |
| 14. | Joseph Delaforce, son of Thomas, weaver, St. Dunstans, Mile End New Town. £2 fee paid by Langbourne Ward Charity School. app. 1 Nov 1797, Free Feb 1805 (i.e. born 1783) Clothworkers Guild. |

(D)

At the beginning of the 18th Century there were no less than four John Delaforce silk weavers, practising at the same time:

| | |
| --- | --- |
| (a) | son of Isaac & Mary Gamier, b.1692, app. 1707, free 1718 (Delaforce) |
| (b) | son of James & Jane Cooper, b.1701, app. 1715, free 1722 (Le Fause). |
| (c) | son of John & Susanna, b.1710, app. 1724, free 1731 (Delforce) |
| (d) | son of John & Mary, b.1690, app 1704, free 1712 (Delfort/Delfosse). |

(E)

The Huguenot Society vol. 55 record the saga of the Spitalfields weavers of 1739-41 who were in need of aid. The archives of La Maison de Charite' de Spittlefields gives a sad and a serious account of some 543 cases of weaver families in need, and indeed receiving help. There were no Delaforces amongst them - perhaps surprisingly. This book is a mine of information about the East Enders of this time and should be consulted by researchers with 18th century descendants living in that part of London.

There was a major crisis in the weaving trade in 1811 when America declared war on England. In Manchester 32 out of 38 mills closed. In Glasgow weavers wages fell from 17/6d. weekly to 7/6d weekly. The Luddites broke up hundreds of framework knitting machines.

The decline in prosperity of the silkweaving trade had a profound effect on the Delaforce family. Some emigrated to Australia and America. Most of them entered totally different trades: cab drivers, butchers, milkmen, barbers, straw hat manufacturers, spectacle makers, tailors, cabinet makers etc.
London Silk Weavers in the 17th Century
At the end of the 16th century London's population was about 250,000 including Westminster, Lambeth and Stepney, 'defended' by eight massive gates - Aldgate, Bishopsgate, Moorgate, Cripplegate, Aldersgate, Newgate, Ludgate and Bridgegate. The second and third cities in the country were Norwich, with a population of 29,000 and Bristol with 20,000.
When the epidemics of bubonic plague struck the city the death roll was horrific. In 1603 30,000 died, in 1625 35,000, in 1636 11,000 and in the great plague of 1665 no less than 70,000 people died. It is a wonder that the population of London continued to grow. Amidst the survivors the silk weavers flourished, including many Huguenot immigrants, whose industry was not always appreciated.
1595 Complaint of the Yeoman Weavers against the Immigrant Weavers addressed to the Minister & Elders of the French Church in London.
1.

'Kepe Apprentices and Loomes twyce or thryce as many as they ought whereby such an intollerable multitude of workemen are growne, that nowe one is not able to live by another.

2.

They doe not refuse to teache their Countrymen which new come over, the Arte of silke weaveinge, though before they were a Taylor, a Cobler or a Joyner...

3.

They sett Wooemen and Maydes at worke, whoe, when they are become perfect...'...

The sumptuary laws of 1597 forbade any man under the rank of Knight's eldest son to wear a velvet jerkin, doublet or hose or to use satin, damask, taffeta, tuftafetty (tufted pile) or grosgrain for cloaks, coats, gowns, or 'uppermost garments'. No woman below the degree of Knight's wife could legally wear velvet or silk embroidery or 'nether stocks of silk'. Under the reign of the Stuart Kings these laws were not observed!
According to the customs of the City of London and the Weavers Company the proper manufacturing procedures were as follows. 'A Merchant Silkman may deliver silk (yarn) or other stuff unto any Master Weaver that is a Freeman, or other which is admitted a Master by the Bailliffs, Wardens and Assistants of the Weavers Company. And the silk or other stuff ought to be delivered by weight and being wrought or fashioned, the owner may receive the same again by weight and pay the weaver for the workmanship or fashioning thereof, either by the pound or by the dozen, as both parties can agree, allowing sufficient waste upon every pound.' Alternatively the merchant or silkman might sell the raw materials to the weaver at a certain price and buy back the woven fabric at a price high enough to recompense the weaver for his work.
The price paid for silk was 3d. or 4. a yard, and silk woven scarves sold at 18d. each. A journeyman weaver's wage was 2s.4d. a week plus food, drink, lodging & washing 'fitting for a journeyman' and new clothing at the beginning and end of his 7 or 8 years servitude. (Apprentices served 7 years - 55 percent, 8 years 35 percent, and over 8 years - 10 percent). Masters paid 20s. to the Weavers Company for journeyman weaver's admission and had to provide 'reasonable fare ... sweet and holdsome for man's bodie.'
There were three distinct grades after Citizen and Weaver of London (i.e. Freeman of the City). These grades were called 'admissioners or foreign brethren'.
1. Foreign masters, whose qualifications were fully approved by the Company and who were allowed to take apprentices.
2. Foreign weavers allowed to work independently but not to set up as 'householders'.
3. Journeymen - weavers who had proved their apprenticeship or capability in the craft, but were not permitted to work except as journeymen.
Moreover the grades of Gild membership were defined commercially in terms of the number of single looms, numbers of journeymen and apprentices employed.
Single Looms

No. of Journeymen (max)

Apprentices (max)

Denizens or foreigners

in 1st year after admission

5

1

1

in 2nd year

5

2

3

in 3rd or subsequent years

5

2

3

Strangers (aliens)

1st year after admission

4

1

1

2nd and subsequent years

4

2

2

Liverymen of Company

6

unlimited

4

Bailiffs/wardens of Company

7

unlimited

5
The location of Weavers in London in the 17th Century were 30 percent in Southwark, 20 percent in Cripplegate, 20 percent in Shoreditch and 10 per cent in Whitehall. In 1618 a survey showed the percentage of weavers strangers' in London.
Total

Weavers

Bishopsgate

190 of which

138 plus 6 throwsters & 4 threadmakers

Portsoken

84

29 plus 2

Coleman Street

31

10

Southwark

St. Saviours

13

3 plus 8 dyers

St. Thomas

29

22

St. George

15

3

St. Olave

93

30 plus 8 throwsters & 11 dyers

Bermondsey

St. Mary Magdalene

27

14 plus 1 throwster

TOTAL

482

289
During this century the Weavers Gild admitted between 8 and 10 strangers/aliens per annum paying £5 fee, and 'forren' admissions, mainly from the provinces, between 11 and 14 per annum paying a £3 fee initially. The livery 'fine' was increased to £6 in 1680. At the end of the century the Gild granted a total of about 150 Freedoms a year (86 percent by servitude, 12 percent by patrimony and 2 percent by redemption). But a hundred years later, in 1790, there were only 12 Freedoms in total granted.
The following statistics show the rise and fall of the Guild membership.
| | |
| --- | --- |
| 1681 grand total of | 5,403 members |
| 1692 | 6,330 members |
| 1701 | 5,785 members |
| 1730 | 5,240 members |
| 1750 | 2,613 members |
| 1790 | 1,820 members |
| 1820 | 905 members |
London had two main weekly lace markets - one at the George Inn, in Aldersgate Street, and the other at the Bull and Mouth, also by Aldersgate. Some silk weavers specialised in broad weaving, others narrow wares such as ribbons, girdles, garterings, braids, cords and laces. Others in very light delicate fabrics such as cobweb lawns and tiffanies (silk gauze). Others wove black heavy-dyed 'London' silk tufted taffetas, figured satins, fine slight ribands, ferret ribands both black and coloured, and pure silk damasks. The Orris weaving was a lucrative section of the trade -the manufacture of gold & silver lace and braid. Finely drawn gold and silver wire spun upon silk in proportions described by Act of Parliament, was made into lace and braid known as 'statute lace'. Bone Lace, from bone bobbins by lacemakers, or bone pins for pricking out the lace, was mainly fashioned by the out-work trade by large numbers of young children 'and divers ancient people spinners and workers of waste silks ... a very great number' who had no others means of getting a living.
Well might the Gild in 1603 be described as 'Bailiffs, Wardens, Assistants and Commonalty of the Trade, Art & Mystery of Weavers of London' based on Weavers Hall in Basinghall St.
The Weavers company employed their own "Yeomanry" to inspect the work place and warehouses and endeavour to maintain high standards. There were 16-20 of them 'below the Livery' policing the five main districts 'in search of the craft.' They collected 'a search grant (4d)' as a customary contribution towards their travel and charges. This was a longstanding right to collect from those whose premises they searched! They also collected a 'search breakfast' and a 'search supper' at the end of the day!
Samuel Pepys in his Diary tells of a pitched battle in 1664 between the weavers and the butchers, "Great discours of the fray yesterday in Moorfields, now the butchers at first did beat the weavers, but at last the weavers rallied and beat them ... and the butchers were soundly beaten out of the field and some deeply wounded and bruised: till at last the weavers went out tryumphing calling '£100 for a butcher'!"
There were more weaver riots in 1675 when the use of engine looms was introduced to weave silk ribbons. At the end of the century Strype described "Spitalfields, a great harbour for poor Protestant Strangers, Walloons and French, who as in former Days, so of later, have been forced to become Exiles from their own Country for their Religion & for the avoiding cruel Persecution. Here they have found quiet and security, and settled themselves in their several Trades & Occupations: Weavers especially."
The move by the weavers to the newer communities of Spitalfields and Bethnal Green took place early in the 18th century.
Sources
Frances Consitt 'The London Weavers Company.'
Alfred Plummer 'The London Weavers Co. 1600-1970'.
Appendix
The 17th, 18th century Silkweavers of London
| | | | | | |
| --- | --- | --- | --- | --- | --- |
| | Born | Apprenticed | Master/Freed | Father | Name |
| Danyell | 1603 | 1617 | F1623 10 Jul | | De Fowce |
| Francis | 1602 | 1616 | F1627 28 Nov | Jaques | Delaforce |
| John | 1599 | 1624 | F1635 25 May | Jaques | del Forto |
| Peeter | 1605 | 1624 | Fl 635 25 May | Jaques | de Failso |
| Jaques | 1617? | 1631 | F1638 | ? | deFos? |
| James | 1641 | 1656 Dec | F1664 5 Sept | Anthony | Delafosse |
| John | 1645 | 1659 | F1666 17 Dec | John | Delafe... |
| Stephen | 1641?3 | 1657 | F1663 | Francis | Delafosse |
| Phillip | 1609 | 1623 | F? | Jaques | Delafoss |
| Antony | 1612 | 1626 | F? | Jaques | Delafosse |
| Francis | 1653? | 1667 | 1674/5 | Phillip | Defore/Deforce |
| John | 1649 | 1663 | 167013 Jun | | Desfosses/Delafosse |
| James | 1652 | 1668 | | | Delafosse |
| Charles | 1645 | 1660 | F1669 18 Jun | | Delfoss relused 1669 |
| James | 1662 | 1676 Feb | 1683 | Stephen | Delafosse |
| Isaac | 1663 | 1677 May | 1684 9 Jun | | Delafosse |
| Phillip | 1633 | 1650 | F168 4 30 Jun | | Delfosse (Valenciennes) |
| Charles | 1664 | 1678 | 1685 8 Sept | Charles | Delfoss (same as above) |
| John | 1653 | 1668 Nov | 1675 | | Delfoss/Delaplaus |
| Stephen | 1667 | 1681 | 1709 5 Sept | Stephen | Delafosse |
| Francis Noah | 1671 | 1685 Jun | 1692 | Phillip | Delfosse/Delfoss |
| Charles | 1674 | 1688 | 1695 | | Defose (Royal Lustring Co) |
| Isaac | 1674 | 1688 | 1695 | | Delfosse (Royal Lustring Co) |
| John | 1672 | 1686 | 1693 3 Apr | Stephen | Delavoer/Delforce |
| Isaac | 1685 | 1699 | 1706 Dec | Isaac | Deford? |
| James | 1671 | 1685 | 1692 | Stephen | Delaforce |
| Peter | 1685 | 1699 Jun | 1707 | James | Delford/Dolforce (Stepney) |
| Charles | 1687 | 1701 | 1709 | | Delforce (Bethnal Green) |
| John | 1690 | 1704 Jan | 1712 Apr | John | Delfosse/Delaforce |
| John | 1692/3 | 1707 Jan | 1718 5 Dec | Isaac | Delaforce/Delfort |
| John | 1702 | 1718 May | 1722 4 Jun | James | Defforce/Lefause/Dollifou |
| James | 1694 | 1708 | 1715 | James | Delaforce |
| Stephen | 1693 | 1709 | 1716 | | Delafosse |
| Phillip | 1709 | 1723 | 1730 | ? Phillip | Dufour/Delforse |
| John | 1710 | 1724 Sep | 1731 | John | Delforce |
| Jacob | 1717 | 1731 May | 1750 Mar(!) | James | Delforce |
| Charles | 1719 | 1733 | 1744 | Charles | Delafosse |
| Susan | 1716 | 1733 | 1740 | James | Delaforce |
| John | 1723 | 1737 June | 1744 July | James | Delaforce |
| James | 1729 | 1743 | 1758 | John | Delfosse |
| James | 1730 | 1744 Aug | 1769 Jun(!) | James | Delfors |
| James | 1731 | 1745 Aug | 1753 Apr | Peter | Delaforce (Tailor) |
| Jacob | 1750 | 1764 | 1771 | Jacob | Delforce |
| William | 1734 | 1748 Oct | 1752 | John | Delaforce (Weaver) |
| Daniel | 1755 | 1769 | 1776 | | Delaforce |
| Thomas | 1755 | 1769 July | 1776 | William | Delaforce |
| Judith | 1755 | 1770 | 1780 | | Delaforce |
| Thomas | 1756 | l770 July | 1777 | | Delaforce |
| Jacob | 1758 | l772 June | 1779 | Jacob | Delaforce |
| Charles | 1766 | I780 June | 1787 | Charles | Delaforce/Delfors |
| James | 1779 | 1793 Aug | 1801 Feb | Thomas | Delaforce (Weaver) |
| Mary | 1785 | 1800 | 1810 | | Delaforce |
| Aug.Edward | 1793/87 | 1807 | 1814 | | Delaforce |
| Thomas | 1785 | 1800 | 1807 | | Delaforce |
| Aug.Edward | 1816 | 1830 | 1837 | Aug.Edward | Delaforce |